---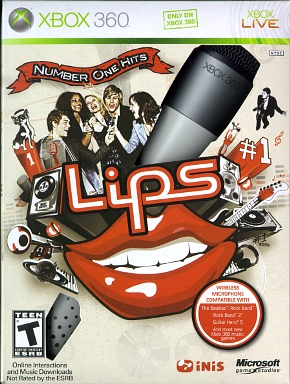 Lips: Number One Hits
Ages: Teen

The industry's practice of producing a game for one specific console has led to Singstar on the PS3 and Lips on the Xbox. Song lists are different, but the mechanics are similar enough that friends can party without any learning curve whatsoever.
Lips: Number One Hits is actually Lips number 2 and the songs from the earlier game are compatible with the new one. The microphone - wireless and twinkling with lights is also compatible with most Rock Band, Guitar Hero games and Disney's Sing It! High School Musical 3: Senior Year.
The microphone is motion sensitive and shaking, gesturing and posing is part of the game for big scores. Rating is on pitch and timing but now vibrato is a good thing. Personally, I never liked vibrato and don't think it should be encouraged. For the multi-taskers, the microphone can be used as a percussion instrument along with the controller for tambourines, claps and cowbells. This is getting to be a wild party.
The song list, as the title says, are songs that have been on the number one position on global music charts - 40 plus an additional 5 to download should keep the party going for a long time. Check them out.
(I Just) Died In Your Arms by Cutting Crew
Always on My Mind by Pet Shop Boys
Apologize by Timbaland feat. OneRepublic
Around the Way Girl by LL Cool J
Barbie Girl by Aqua
Big Girls Donít Cry by Fergie
Broken Strings by James Morrison feat. Nelly Furtado
Bubbly by Colbie Caillat
California Love by 2Pac feat. Dr. Dre and Roger Troutman
Disturbia by Rihanna
Donít Matter by Akon
Donít Phunk With My Heart by Black Eyed Peas
Donít Worry, Be Happy by Bobby McFerrin
Everybody Wants to Rule the World by Tears for Fears
Heart of Glass by Blondie
Heartless by Kanye West
Hey Baby by DJ ÷tzi
Hey There Delilah by Plain White Tís
How You Remind Me by Nickelback
I Donít Feel Like Danciní by Scissor Sisters

I Get Around by The Beach Boys
I Heard It Through the Grapevine by Marvin Gaye
Iím Yours by Jason Mraz
Just Dance by Lady Gaga
Karma Chameleon by Culture Club
Loser by Beck
Love Generation by Bob Sinclar
Lovefool by The Cardigans
Millennium by Robbie Williams
More Than Words by Extreme
Oh, Pretty Woman by Roy Orbison
Push the Button by Sugababes
Ready, Set, Go! by Tokio Hotel
She Drives Me Crazy by Fine Young Cannibals
The Fear by Lily Allen
The Look by Roxette
The Tide is High (Get the Feeling) by Atomic Kitten
Touch My Body by Mariah Carey
U Canít Touch This by MC Hammer
Viva la Vida by Coldplay


Fun Factor: Karoke will never die.
Female Factor: You even get the Lady Gaga
Reviewed by: Editor - 11/09
Lips: Number One Hits
&copy Microsoft/iNiS
Platform(s): XBox360
To Order: XBox360 http://www.amazon.com/ $53.99