---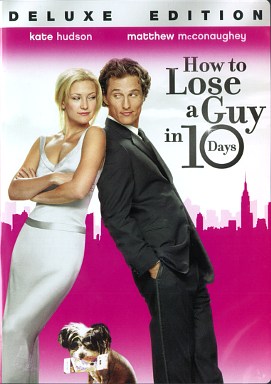 How to Lose a Guy in 10 Days
Ages: PG-13

A delightfull romp thought the male/female wars. Audi (Kate Hudson), a writer for a woman's magazine comes up with a novel idea for her series on, "How to …". "How to Lose a Guy in 10 Days". Visiting a bar and looking for her subject she's approached by Ben (Matthew McConaughey) - the come-on lines are exchanged and they go off. Unbeknownst to Audi, Ben has made a bet in order to win an account, that he can make any woman fall in love with him in ten days. The plot revolves mostly about Audi and the outrageous things she does; interferes with boy's night out; brings in all her stuffed animals into his bedroom; claims to be a vegetarian when Ben serves his homemade lamb dinner and on and on. Ben suffers through all of this demeaning action because winning the account will be a big career step.
It's eventually resolved because as everyone can see, these two are beginning to really like each other. The two actors work well with each other. One of the bonus features relates that Kate Hudson had refused a number of leading men until someone came up with Mr. McConaughey - and the attraction shows through.
A Bonus Features presenting two psychiatrists discussing men vs women, was an attempt to give serious substances to the content, but they said nothing that we don't already know. On the other hand, the story on how the movie was conceived was very interesting. The idea came from two women, Michele Alexander and Jeannie Long, who one evening, to amuse themselves cooked up the idea and illustrated it with stick figures. It made a novel and charming book - How to Lose a Guy in 10 Days

Fun Factor: A date movie that will inspire animated discussions.
Female Factor: Audi is a strong willed professional journalist.
Reviewed by: Editor - 08/09
How to Lose a Guy in 10 Days
&copy Paramount
Platform(s): DVD
To Order: DVD http://www.amazon.com/ $20.99