---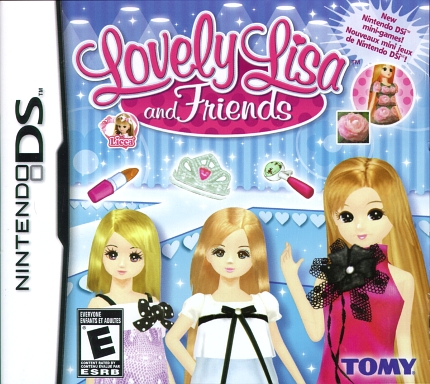 Lovely Lisa and Friends
Rating: E - Everyone

It's pretty much the same game as Lovely Lisa, which is not bad if you never played the first one. In this version, scoring is slightly different. Besides the Easy, Normal, Hard settings you can multiply your score by two or three. It's an easy way to accumulate points to buy more things. Players are free to pick any of the categorizes - Chores, Jobs and Idol, and while you don't have to do chores first now, you do have to fill up the counters on all three before you can enter the Idol contest.
Home chores, cooking, washing clothes, shopping, telephone always start with a polite request and ends with a thank you. The courtesy throughout the game, makes it feel distinctly un-American.
Careers has simple games, offering a choice of nurse, police, sweet shop, hamburger shop, day care, florist and town guide. Games involve matching, moving the stylus in a pattern, musical tunes, coloring - all inventive and easy.
Makeup practice involves - lips, cheeks, eyes, and nails - all restrict coloring within proscribed lines.
Design - constructs patterns on clothes by coloring in a mini-grid.
Shopping affords clothes, accessories and a hair salon.
Most fun is the dress up part where you can get a larger picture by turning the DS sideways, zoom into parts of the picture, move the image and turn Lisa 360 degrees. There is a wide assortment of clothing - dresses for cleaning and housekeeping, a wedding dress, yukatas, nurse, police officer's uniform and many others with names like "sincere ribbon dress". Distinctly, not American.
There are some minor glitches that don't really interfere with the game, unless you want to buy a yukata or refuse to look for dresses under "tops". The Library - contains a history of Lisa. She and her family are now in the 4th generation of Lisa dolls - sort of a family-centric version of Barbie. In searching Google to find Lisa dolls - I got the criminal record for a Lisa Doll. Our Lisa is not an American doll for sure - but pleasant and nice.
And, oops - I couldn't find any "friends" in the game, just Lisa.

Fun Factor: A good range of activities
Female Factor: Lisa is a wholesome character
Player Friendly: Good adjustments for various agees
Reviewed by: Editor - Mar/10
Lovely Lisa and Friends
&copy Tomy
Platform(s): DS
To Order: DS http://www.amazon.com/ $29.99