---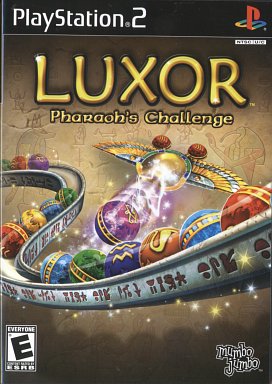 Luxor Pharaoh's Challenge (PS2)
Ages: Everyone

Casual game are making it big time. This one retools the Match Three games in an interesting and novel way. The Match Three games are easy pick-up and play games so that changing the format, adding art, a little story, some educational content turns it into a more robust game. And so it is with Luxor Pharaoh's Challenge.
Multicolor balls roll down a path. At the bottom is your shooter. You shoot colored balls into the advancing string to make matches of 3-4-5. Matched balls are removed, your score goes up and the advance of the balls is disrupted. If the ball chain does reach the "Temple" you lose a life. Enough lives lost, you start the level over. Each level has different tracks for the chain of balls – all very Egyptian with names like "Balance of Ma'at", "Guardian of the Tomb", "Step Pyramid of Djpser". At the beginning of each level there is a continuing story from an Egyptian myth. As a nod to the hardcore players, there is a "Hardcore" level.
It's lots of fun, it's worth the price and if you are enamored of things Egyptian it's even more of a treat because the graphics are good.

Fun Factor: A new take on Match Three games
Reviewed by: Editor - 12/07
Luxor Pharaoh's Challenge (PS2)
&copy MumboJumbo
Platform(s): PS2
To Order: PS2 http://www.amazon.com/ $18.99