---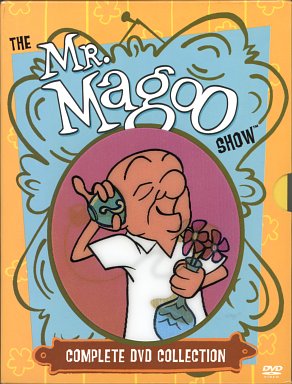 The Mr. Magoo Show
Ages: Everyone

Back in the good old '60s when there were cartoons to please the adult minds, UPA created 130, five minute episodes of Mr. Magoo. They are all on this five disk offering from Classic Media. There are ten hours of watching Mr. Magoo narrowly escape his misadventures with stubborn self-confidence. His near-sightedness is the basis for the set-up jokes that have you anticipating how he could possibly manage to escape doom and destruction – happily, he always does. Think of it – ten hours of non-violent entertainment, no one is killed, no shooting, no blood, no fiery explosions – just laughs.
As I looked over this Magoo oeuvre I was impress with the creativity of the creators, Zack Schearts, Daver Hiberman and SteveBosustow. On a single theme, they came up with a surprising variety of plot lines. Those who remember Magoo will be pleased with hearing Jim Backus, who was the voice of Mr, Magoo for decades.
Just a word about the packaging because the design is so excellent. There are five foldouts sporting colorful cartoons and disks to match in a slip case. Included is copy of a 1963 comic book. A wonderful treat for yourself – and a great gift for those retro fans.

Fun Factor: Ten hours of non-violent fun.
Reviewed by: Editor - 06/07
The Mr. Magoo Show
&copy Classic Media
Platform(s): DVD
To Order: DVD http://www.amazon.com/ $23.99