---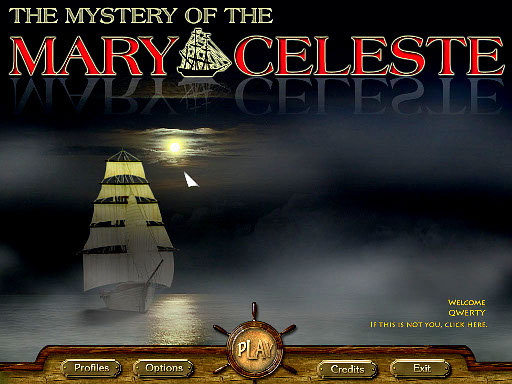 The Mystery of Mary Celeste
Ages: All ages

The disappearance of all on board the Mary Celeste is a true unsolved maritime mystery. Briefly, in 1874 the merchant ship was found devoid of crew and passengers but with all cargo and personal items intact. A life boat was missing. It has spawned speculation about insurance fraud, an alcohol explosion, mutiny and with some of its history, a jinxed ship. The passenger list was small - only the captain's wife and daughter.
As Mary Morehouse, a descendent of those who found the abandoned ship, she boards the Mary Celeste II to solve the mystery. The game touches base on all the speculations, which makes it as much of a mystery story as a seek and find game. In fact I found myself rushing through the seek and find to get back to the story. Numerous characters are brought in, Captain Briggs' wife Sarah, the child, and the ships' owner Mr. Morehouse. Aboard the ship, action takes place topside and below the deck in various cabins, the mess, the bilge. There's even a visit to the living room of Mr. Morehouse and to a Caribbean island. Many of these sets switch from present day to the past 19th century. All loaded with items to find.
Puzzles are interspersed between the main game - putting together a map, finding coordinates, a couple of pipe connecting sequences, connect the pulleys - all nicely related to the game topic. Help is obtained from a compass that will highlight the object to be found, but it must stop spinning before another request is answered. Interesting, no text identifies the objects to be found and that is where improvement could have been made. The objects you find are ambiguous, lots of long objects with something on the top, flat things, objects with dots, I couldn't tell whether the scrunched thing I found was teabags or potpourri. Without text they all fall in to just shapes.
The adventure quotient is increased by being able to walk into different cabins from the corridor, opening doors and grouping items to solve a problem. The music changes from jolly sea chanteys to ominous tones when things get mysterious. Because there is in-game reference to sounds being heard, a better sound track would have made it more ominous. Casual games are getting more robust and complex - The Mystery of Mary Celeste is a good example. The game can be sampled for free or purchased ($6.99) from portals like bigfishgames.com Later this season it will be on store shelves.

Fun Factor: Fun as a seek and find; engaging as a mystery
Reviewed by: Editor - 08/09
The Mystery of Mary Celeste
&copy Merscom $6.99
Platform(s): WVISTA XP