---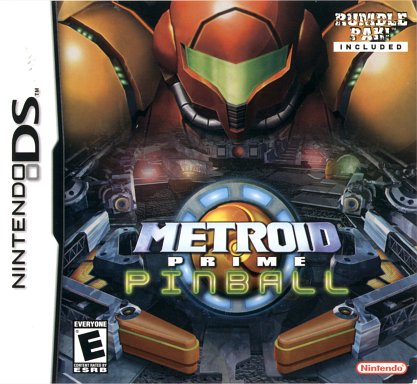 Metroid Prime Pinball
Ages: Everyone

I was in my local Game Spot when I saw someone playing this game. It's not new, but I was intrigued by the response to the rumble pack, and besides I have a great admiration for all things pinball. And the pinball machine was continued through both screens and you could control the flippers on both – cool, had to have it.
I never thought that pinball was a hard game to play. Stick around long enough, keep the ball in play, be moderate in your tilts and you can rack up a high score. And I did. But what were those bugs on the screen, and that shooter that sprang up from the center and wiped out what looked to be cockroaches? The instruction booklet was useless, "With this lit you have a power bomb to use" – Cool. How? "This is where Samus faces her greatest threat" – I didn't see no dame on the table. Well, I had selected the Multi Mission option which has enemies, weapons to acquire, and Samus – the bounty hunter in Metroid Prime who can scrunch up into a ball – ball – pinball – got it.?
The single option is where you try to rack up a high score on one of two machines and it won't raise up your heart rate as much. The graphics are as beautiful as some slot machines -- white, blue, red and orange arrows and circles advise you about available shots. There are many enemies, and they appear in a hologram, and few friends. Wireless will play up to eight friends and they will love you for it.
To find your high score code, play a complete Single or Multi Mission. When your game ends, your score will appear on the touch screen. Press the B button and 'Press Start' will appear. Press the B button again, and the game will display your result time or score. If you are going for the leader board, press the Select button here to get the verification code!
The game is worth bringing off the shelf – or going out and buying it. It sells for under $10.00, rumble pack extra. It has the unique concept of combining two very different genres into a new game. Recently Puzzle Quest by D3 Productions combined a "Match 3" game with an RPG to make a whole new playing experience, but this was done a year ago!

Fun Factor: Beautiful, clever and fun – even fun figuring out who Samus was.
Reviewed by: Editor - 08/07
Metroid Prime Pinball
&copy Nintendo
Platform(s): GBDS
To Order: GBDS http://www.amazon.com/ $9.89