---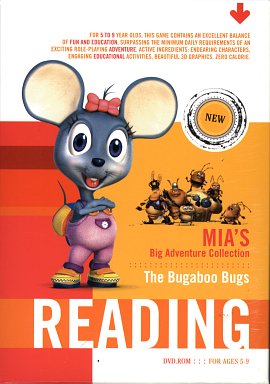 Mia's Reading Adventure: The Bugaboo Bugs
Ages: Ages 5 - 8

Kutoka has come out with a new edutainment game – a term I haven't used very much since Leapfrog went into business. The story is about a skateboarding mouse who lives in the top floor of a house occupied by "Big Feet". But Mia and her friends live quietly and unnoticed by the Big Feet. The problem is the new residents – the Bugagoos – a loud, arrogant, messy, partying bunch that threatens to attract the notice of the Big Feet with the concern that they may bring in the exterminators – and that will bring grief to everyone. How to get these boisterous bugs to cool it becomes Mia's responsibility.
Mia is moved with the mouse – Picking up objects happens automatically once you select them with your pointer. Amusing action keys causing Mia to perform separate actions – J for joy move, D for dance move and S for skateboard moves will please the children.
It is through Mia's trips from attic, closet, kitchen, basement and garden that the reading activities occur – 12 in all. The level spans from kindergarten to grade three – but I have always found that Canadian language requirements can be appreciably higher than the US ones. Topics covered are associating images to words, punctuation, phonics, rhymes, spelling sentence structure, vocabulary, reading comprehension, word recognition, verb tense, adverbs and following instructions. It all happens in such an interesting, colorful format that the kids won't even know they are learning.
The game comes on a hybrid disk and plays on the PC and Macintosh (another term I haven't used very much lately. A walkthrough is on the disk – wouldn't be nice if the parents got stuck

Fun Factor: Cheerful and colorful - the learning is painless
Female Factor: Mia - a spunky female skateboarding mouse, loves sparklies
Player Friendly: The begining screens are a bit awkward but it's smooth sailing once the games starts.
Reviewed by: Editor - 03/08
Mia's Reading Adventure: The Bugaboo Bugs
&copy Kutoka
Platform(s): WVISTA XP W2K OSX
To Order: Win http://www.amazon.com/ $24.99
To Order: Mac http://www.amazon.com/ $24.99