---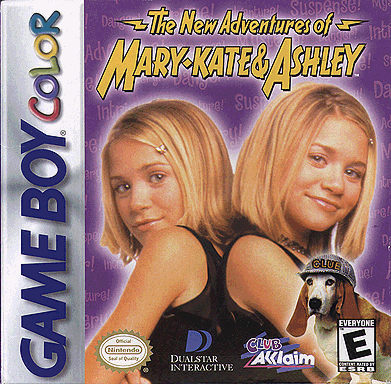 The New Adventures of Mary-Kate & Ashley and Mary-Kate and Ashley Get A Clue!
Ages: Everyone - but really Teen

These games would mostly appeal to any Mary-Kate and Ashley fans. Other girls, from the ages of 7 to 11, will enjoy these games too! But unlike Mary-Kate and Ashley's motto it's very hard to "Solve any of these crimes by dinnertime"! These two games are for Gameboy Color and if you've only played on the Mac or PC, It takes a while to understand the play of the game and how to maneuver the players to win. It might be hard or slow down younger players. Both games are played the same; the difference between the two is that there are different cases that the Olsen twins can take on.
On most levels, the object of the game is to trigger the switch that will get a clue. Once you have all the needed clues you will have found the answer (an object) to the mystery. But it's not as easy as it seems. There are enemies (such as cats, bears, ghost slime, spiders, vampires, mummies and more) to watch out for, many tough obstacles to overcome plus different player attributes to remember. For example, Mary-Kate can only jump and can be bounced on to boost other players while Ashley can only throw Clue (their dog) and trigger switches. Only Clue can swim, be stood upon, ridden and thrown - it's a dog's life. It gets sort of confusing remembering who can do what. Just identifying which twin is which is difficult. The small, small difference in their appearances is that Ashley has a high ponytail and Mary-Kate doesn't. I think that most younger girls would get engaged in the two games especially considering that GameBoy in general, can get you caught up in the action. But if it is dinner time and the crime isn't solved yet, the pause button does come in handy!
Reviewed by Julie R. 7/00
The New Adventures of Mary-Kate & Ashley and Mary-Kate and Ashley Get A Clue!
&copy Acclaim 2000 $29.99
Game Boy and Gameboy Color
Game Site: http://www.marykateandashley.com
To Order: http://www.amazon.com (Adventure)
To Order: http://www.amazon.com (Get a Clue)