---
---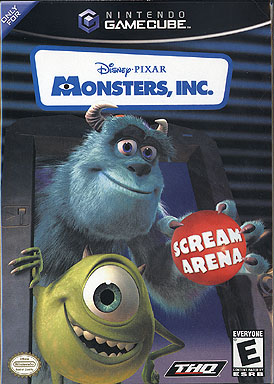 Monsters, Inc Scream Arena
Ages Everyone (6 or older)

A monster dodge ball tournament with amusing characters, different play areas and more types of balls than you will be able to keep track of. It is only remotely similar to the game played in gym. Sure you dodge and try to hit others, but you never had players like those here. They are the characters from the movie but rated like players - for power or speed. You can play as any one of them - and there are 13 including Sulley, Mike and Boo. The balls are the fun things and try lots of them before you pick your favorite. They have effects that range from being able to be blockers to one that will follow you, a sneeze ball, a transparent ball, a disco ball, and a slime ball just to name a few. There are four types of games and seven different environments in which to play. Dodge ball will never be the same.
By the way - I don't want to spoil you fun but parents should read the safety information supplied with the instructions - seizures, repetitive motion injuries, electric shock, motion sickness - Sheesh - it was safer in the gym.
Editor Review 10/02
The monsters play a form of the dodge ball or nation ball as we call it at our school. The monsters use it as a training system to make me, the game player laugh. You go through different arenas to unlock all the monster characters by beating specific attackers, like the CDA agents. Once you unlock a character they become game players you can use. Boo is the most difficult character to defeat.
I read over the instruction book before I started to play the game. That way I would know the basic game and how to move around. It didn't take very long to figure out how to throw balls and score points. There are 7 arenas and each is a scene from the movie. You can watch short clips from the movie before actual game play starts. The different arenas, levels, or modes of play have names like Monster Keep Away, Count Down, Knock 'Em Out and Defend, or Ball Tag.
I really enjoyed the game. It was fun to throw all the balls at the characters and see what kind of silly reactions they made. Each type of ball does something different. There is one called the Pet ball. If you pick it up after someone else has thrown it- it will bite you!
My favorite levels were Mike and Sulley's Apartment and the Simulation Room. Their apartment has a hamster ball which turns you into a ball for ten seconds! I have a hamster so it was funny. I like the movie clips from the Simulation room. My favorite character to be is Randall because he is fast and he says really funny things.
The most frustrating arena for me is the Laugh Floor. It's hard and you have to knock 'em out and defend at the same time. There are so many balls and they do so many things I found I got confused. After a few days of on and off play I still haven't beaten it yet!
The arenas stay the same and some are more difficult then others but when you play the same level over again, the monsters appear in different places. You can pick what Monster you want to be and they have different speed and power. I want to play till I beat every single arena and every level and unlock every character.
The graphics are good. All the characters look just like they do in the movie and the voices sound just as they should. They also have the same attitudes as they did in the movie and say funny things when they get hit with the balls! I really like the actual movie clips that you can watch if you want. There isn't a lot of music and it's almost the same for each arena, but you really don't notice cause you are listening to the characters talking as they play and to the sound effects the balls make.
This game is made for one to four players. I had friends over and I only have two controllers, so we took turns. They all thought it was fun to play together. The game has options so you can play solo, buddy, party or team modes. We tried buddy and solo. For Solo, it was you controlling one monster and the game controlling the rest. Buddy is when you have two players, each with a controller, not trying to throw balls at each other, but working together to beat the other two monsters. My friends were age 7 to13, so Rated E for Everyone seems just about right. My Dad played too as a buddy and we did well as a team!
If I made the game over, I'd start the lower three arenas with only four balls so you could really get a chance to memorize what they do. Then as you progress and get more points and monsters, you could earn new balls. When you begin at solo and there are three monsters it can be confusing at first. With some of the courses there were so many balls you forgot what they did. I'd like to see more hiding places so your character can hide and duck from balls and do sneak attacks. Maybe they could play more of the songs from the movie in the background too.
Reviewed by: Josie S. Age 11 - 12/02
Monsters, Inc Scream Arena
&copy THQ $39.99
Game Cube
To Order: http://www.amazon.com