---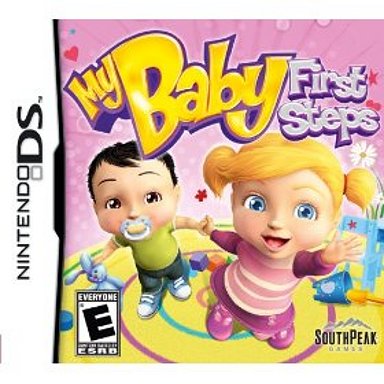 My Baby First Steps
Ages: Everyone

This is a clever idea for a game series - bringing up a baby. The first one started at birth, the second from 15 months to 30 months old. The third …. I think they will have to stop before age 12 - too many complications.
The format of this simulation is the same as that of the earlier one. Clara the pediatric nurse is there to help you do things correctly. Dr. George the pediatrician will give you a program of monthly exercises to help with your baby's development. As with the earlier game - different rooms in the house provide the settings for the different tasks. The age range in this version is actually more interesting than the earlier one - standing, walking, eating, climbing, talking and a whole different level of interaction. The game is saved with each different function or each time you change locations.
You can pick whether you are the mom or dad; and there is a wide range of ethnicity to choose from for your baby - Asian, Caucasian, Indian, Mediterranean, African, N. African, Hispanic. Plenty of different languages too.
The first thing you notice is the new floor centered viewpoint. Baby will soon start walking but that doesn't stop you from picking her up under her arms and letting her stand. Levels are divided into development groups - standing, walking ,saying a word; running, climbing, more words; and so on until the baby is 2 ½ years old. If you neglect your baby, I know it will never happen, it will start to cry and if that isn't enough, the outline on the DS will start to blink and flash. Stroking the screen and talking into the microphone - you can even sing, will work to sooth the babe. I do feel silly singing lullabies into the DS. The mic is also used to teach the baby new words.
Baby's Progress book will have all the information about the baby's progress and exercises. Feeding is different - you are now spoon feeding, and baby may want to try it herself. Dressing up is more fun and you get to buy clothing from the earnings of your baby's photographs. Grandma, like most of them do, will reward you with baby clothes, particularly if you have sent them a few shots of the kid.
There has been much care put into this game to make if feel real - baby gates guarding the stairs, toys on the floor and very realistic baby animation. The images on the box look more lifelike instead of doll-like - an improvement over the first game - which is important if you want to convey that this is like a baby-sim. It's a worthwhile game and well done.

Fun Factor: Lots if taking care of a baby is your thing.
Female Factor: Choice is yours - Dad/Mom, Girl/Boy
Player Friendly: Could be a little long at one level.
Reviewed by: Editor - 10/09
My Baby First Steps
&copy SouthPeak
Platform(s): GBDSDS
To Order: DS http://www.amazon.com/ $29.99