---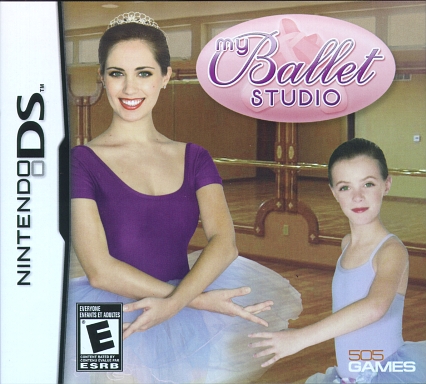 My Ballet Studio
Ages: Everyone

Home is where you save the game. Dance studio where you dance. The game is more than dancing - as evidenced by the café, office, swimming pool, shop, ballet and yoga balls, training rooms, cafes and a clean-up room. The latter, in a salute to Diner Dash, is the way you make money to buy costumes. Everyone knows that ballerinas don't make much money dancing.
Too much talk in the story mode for me - I just wanted to dance so I spent my time in Freeplay. The schedule you have to make if you follow the story-line will lock you into the activities you have scheduled, yoga, rest, swimming, job - good if you want to play the story - tedious if you just want to dance.
The dance function is not easy. You have to move the stylus in the direction indicated on screen. The timing has to take place within a specific area on the timeline on the top of the screen. Difficult to be looking at two places - never mind looking at the dancer. Fortunately, in the routine section there is a playback.
Failed and Bad are not words to use for an aspiring ballerina - how about, "Try again", "Work harder". The graphics are coarse - much more can be done on the DS, but it is ballet and girls will love seeing their dancer - even with glassy eyes, doing pirouettes, arabesques and the Bluebird pas de deux.

Fun Factor: Drat the timeline
Female Factor: It's a girl's world
Player Friendly: Timing can be frustrating.
Reviewed by: Editor - 12/09
My Ballet Studio
&copy 505Games $29.99
Platform(s): GBDSDS
To Order: DS http://www.amazon.com/ $29.99