---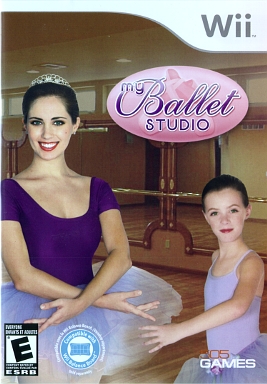 My Ballet Studio
Ages: Everyone

Except for the similar title - this game is almost completely different from the DS version - and gives girls much more dance. Instead of social interaction - there are numerous lessons on Movement and Position. For a fuller involvement you may want to incorporate the balance board, otherwise you use the nunchuk for foot positions, the remote being exclusively assigned to the arm motion.
The girls are the same with the same glassy eyed look. The graphics are poor with jaggies and all sorts of artifacts on screen. The music is excellent and, despite the poor graphics, the backgrounds to the performances are nicely done. Ballet performances include; Z Noveko Sveta, Dancse Russe Trepac, Giselle, and Don Quixote. Stage sets are appropriate to each ballet - an elegant manor, the Land of Sweets, a deep forest and a town square - as is the music.
The Wii dance motions are pretty much the same as for the DS - click on a star and move in the direction of the arrow. It felt easier that on the DS - at least I racked up some "Perfect" scores. Foot motion has a ball or footprint move from left to right with the balance board or the nunchuk. Fortunately, the game does not ask you to do both simultaneously. Performance is scored on balance, stability, musicality, flexibility and gracefulness. These are certainly traits a ballerina should have, but I'm not sure how the remote and balance board can measure them.
It may not be perfect - but at least it is a ballet activity - one that many girls partake of. Hopefully, by next year they will have the Nutcracker story. Ballets are perfect for games - good stories, beautiful heroines, limited animation needed, and girls will love them.
The price on both games is the same - unusual. The Wii platform has more dance, but of course you can't put it in your pocket.

Fun Factor: Exciting
Female Factor: It's a girl's world
Player Friendly: Detailed manual
Reviewed by: Editor - 12/09
My Ballet Studio
&copy 505Games $29.99
Platform(s): Wii
To Order: WII http://www.amazon.com/ $29.99