---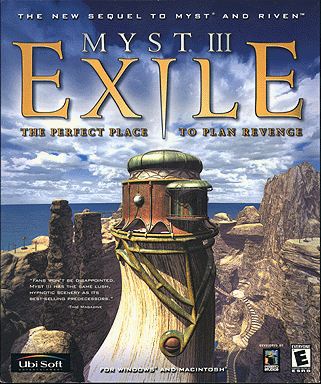 Myst III Exile
Ages Everyone

It's back - in time for summer. Guaranteed to keep you from getting sunburned as you sit transfixed in front of your computer. A cross between Myst and Riven - keeping the best of both and subtly rectifying the frustration factors found in the other two games. There are five new unique ages to explore J'nanin - The Lesson Age, the jumping off point for the other ages; Voltaic - The Age of Energy; Amateria - The Age of Dynamic Forces; Edanna - The Nature Age and Narayan - The Age of Balance. As you can tell from the names, you will explore everything from wild and exuberant nature to mechanical systems and universal forces. In each age puzzles must be solved to advance to other puzzles and the final engagement but the player is free to move between the various ages without completing all of the puzzles in any one age. It is a good solution to the frustration in Myst where you couldn't get back from a age until you solved all the puzzles and found the linking book to take you back.
There are about five major puzzles in each of the ages which gives you plenty to do besides wander about. The puzzles are well designed but tricky enough so that you might want to take advantage of the strategy guide by Prima (see review below). The navigation is a huge improvement over the original games. While not real time 3D, the 360 degree rendering of scenes gives you the feeling that you are free to explore in any direction you might want to - up, down and sideways. The graphics are extraordinary and the contrivances ingenious. The lands that you visited stay in your mind long after the game is over.
Myst III Exile
&copy Presto Studios/Ubi Soft $44.99
Windows 95/98/2000/Me Mac OS 8.1 or higher
To Order: http://www.amazon.com
Prima's strategy guide does more than give hints. By giving background information on the characters and Atrius' journal it fleshes out the story and makes it more meaningful. Hints are provided in two different formats - the complete walkthrough with all the solutions and an incremental parsing out of hints and suggestions to guide you to solving the puzzles yourself. The screen shots are in black and white and are a disappointment after the brilliant color of the game.
Special Note: We believe that as women get into the game field - games will reflect more of what women want in games. In Myst III, two women have been involved in the creation of the game in significant ways. Mary De Marle was game designer and writer and Kelly Standard was the computer artist for the Age of Edanna,. Edanna, the organic plant age is the most graphic and beautiful age in the game. Read how these women got into the field in the interviews in Women in the Game Game on this site.
Editor Review 6/01
Myst III Official Strategy Guide
Prima Publishing $15.99
To Order: http://www.amazon.com