---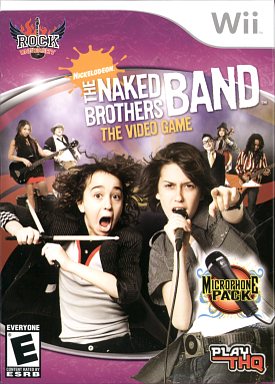 The Naked Brothers Band - The Video Game - Wii (w.mic)
Ages: Everyone

The game's genesis is Nickelodeon, and if you don't expect too much from it - adults will never have heard about them, or their songs - it is an acceptable version of Rock Band - without instruments, for cheap. Check out the DS version too.
There is a good tutorial on the instruments - drums, guitar, cello, bass, keyboard and vocals. Vocals gives you the option of controller mode or microphone mode. Strangely, the controller is more accurate but the mic is more fun. Play directions are pretty standard, hitting the notes as they pass through a target or holding the button down for longer riffs. With the exception of the drums, where movement is necessary - it doesn't much feel like playing the instrument.
The group's schedule includes a tour through five cities - Seattle, New Orleans, Miami, New York and Los Angeles with background scenes mildly hinting at the locations. There are about five venues in each city so there is plenty of play. There are options to play together - either cooperatively or versus, with the latter giving separate scores.
The graphics are good enough so that the kids can recognize the different members, and there is a slim collection of new clothes. Everything is unlocked by playing songs but it is hard to fail.
This year's craze playing music, even dancing through your handheld or console and thatís a nice break from killing monsters.

Fun Factor: Kids will be one with the band
Female Factor: Not a girl band but has one female
Player Friendly: Good manual and in-game instructions
Reviewed by: Editor - 12/08
The Naked Brothers Band - The Video Game (w.mic)
&copy PlayTHQ
Platform(s): Wii
To Order: WII http://www.amazon.com/ $43.99