---
---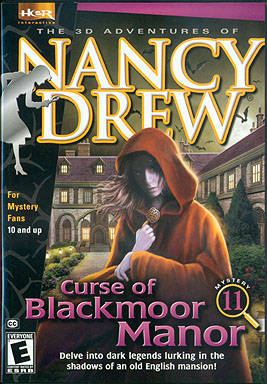 Nancy Drew - Curse of Blackmoor Manor
Ages: Everyone

After a couple of mild mysteries Nancy Drew gets back to a creepy and menacing story line. The beginning scene portends danger and evil designs amok that will demand the best of our Nancy. Blackmoor Manor comes complete with a housemanager who tends carnivorous plants, a young stepdaughter too smart for her age, and her tutor, an expert in Blackmoor's secret rites. Researcher Nigel writing a book on werewolves and ailing Linda Penvellyn, the reason that Nancy is here, rounds out the cast of characters. Good huh?
The last time I saw such interesting interiors was in Message in a Haunted Mansion. You will wander through luscious bedrooms, a foyer that looks like it has been done by a mad jester, dark libraries, and endless corridors and of course our favorite, well remembered, grand staircase. There is a certain pleasure that players of Nancy Drew take with the familiar floor plans.
There are many puzzles to solve before you can get access to the secret passageways, hidden rooms and underground chambers. Your first hurdle will to play -- and win games with the perspicacious Miss Jane Penvellyn who will reward you with items necessary for your explorations -- but only if you beat her.
It is also imperative to talk to everyone at every chance you get, including the parrot. Copy anything that looks like a symbol for future reference. The mystery slowly unfolds, and if you take a disastrous turn -- you get a second chance to correct you mistake. I heartily recommend the strategy guide which is available from http://www.nancydrewgames.com for $9.99. It's good to see Nancy back on track again.
Reviewed by: Editor - 10/04
Nancy Drew - Curse of Blackmoor Manor
&copy Her Interactive $19.99
W98 Me XP 2000
To Order: Win http://www.amazon.com
Game Site: http://www.herinteractive.com