---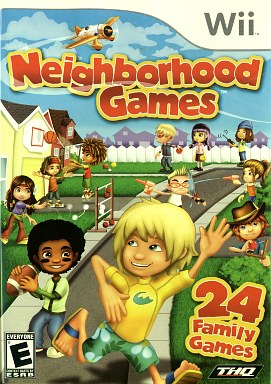 Neighborhood Games
Ages: Everyone

This has some of the charm of the old Backyard sports games that were done by Humongous. The kids are appealing, with distinctive personalities and are not above razzing each other, deliberately distracting a player.
The games are played in the neighborhood, as the title states - a driveway, a park, an urban lot, a beach, with neighborhood-like activities happening about - kids running, cars moving, sirens wailing. And the games are pretty much neighborhood-type games: darts and horseshoes, bocce and shuffleboard, basketball and football. A few games make it in that weren't in my neighborhood - smashing things with a bat and ball; sinking ships by dropping firecrackers on them and throwing water balloons to soak an opponent. Variations on some of the games make the count add up to 24.
There are helpful in game instructions on how to play the games - Bocci and shuffleboard are of a different era and I'll bet kids don't know how to play them. Even the setting is of a different time - when kids gathered on neighborhood streets and lots to play. It's a feel good game.

Fun Factor: Old-fashion fun
Female Factor: Customize as boy or girl.
Player Friendly: Good in-game instructions.
Reviewed by: Editor - 03/09
Neighborhood Games
&copy THQ
Platform(s): Wii
To Order: WII http://www.amazon.com/ $27.99