---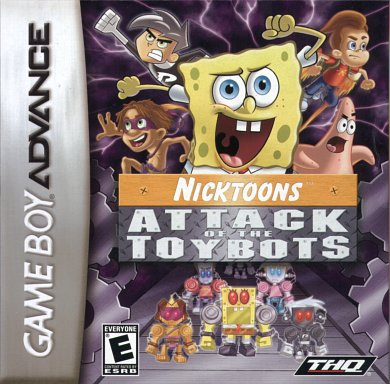 Nicktoons - Attack of the Toybots - GBA
Ages: Everyone

While the basic story is the same as the game on other platforms – here you are collecting gems that will give you special attack powers - 25 gems for a stun blast. Professor Calamitous, to become the worlds biggest genius has captured all the Nicktoon heroes and is making evil clones of them to lead his army of evil Toybots. Scientists, cloning – even in games.
Jimmy's fairy grandparents Cosmo and Wanda haven't recharged their wands and so only one hero can be set free. The first quest is to find keys to the cages. The first level takes place in the jungle. Jungle! It would have been great if whatever character you picked went back to his own native habitat – Tac to the Jungle, Jimmy Neutron to Retroville. It would have been made for more replay value. Tac is the only hero that fits the jungle scene.
The controls are simple, needing only move, jump and attack plus another button for a special stun blast and to enter and exit the mech-fighting machines. The game – on all platforms, is basically 2D, but bluetongue has made them feel almost 3D – not here - the characters look like paper cutouts. The music is also the least successful of the lot. Maybe I expected too much from the GBA after playing on all the other platforms. But it is a necessary game for the GBA with the popularity of the Nicktoon characters.

Fun Factor: A 2D platform side scroller. OK for Nicktoon fans.
Female Factor: Where are the girls?
Player Friendly: Too many jumps - too few saves.
Reviewed by: Editor - 11/07
Nicktoons - Attack of the Toybots
&copy THQ/Firemint
Platform(s): GBA
To Order: GB/GBA http://www.amazon.com/ $19.99