---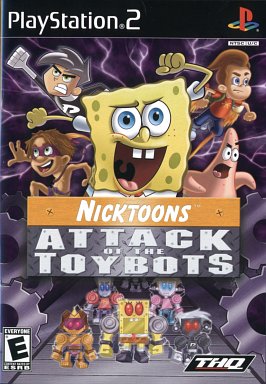 Nicktoons - Attack of the Toybots - PS2
Ages: Everyone

SpongeBob and Patrick are on their way to market Krabby Patties when the patties and Patrick are sucked into Dr. Calamitous' evil toy factory. Following Patrick's plaintive cries, SpongeBob platforms his way through the complexities of the toy factory finally rescuing Patrick, at which point the Nicktoons begin to kick in.
Danny Phantom, then Tommy Turner and finally Tak make their appearances realizing that the Mad Doctor has made blueprints of each of our heros and transformed them into their evil counterparts identifiable only by their red eyes.
And so, accompanied with the buddy of your choice, you must foil the professor's plan. Each hero has special strengths – a little like a RPG. SpongeBob has his tongue, Danny his flying ghost and Tak, the strongman has his JuJu. There is much jumping, ducking, shooting and rolling about to fight off the Professor's creations. His clever and twisted mind has created a Mister Huggies, a snuggly bear that will bite, a Bustup Ballerina who would rather fight than dance and alphabet blocks don't just lie idle, they come after you like cobras and these are just a few of the Toybots. And – just in time for Holiday gift giving.
The Nicktoon family – fighting evil together, make for more variety and this one feels like a family get-together. The game has a total of 11 Nicktoon characters jumping and fighting through five different areas/worlds. The toy factory has the most colorful and creative graphics. The music is pleasant and the voice acting good. The game has a mix of platforming, puzzle solving, and lots of shooting up things, but not enough save opportunities. Each level is long enough so that going back takes some of the fun out of it. After all – it is a game for kids.

Fun Factor: Good story - plenty to do.
Female Factor: Where are the women? Samantha, Danny's sidekick isn't enough.
Player Friendly: Imagine this game without relying on jumping. Not enough opportunity for saves.
Reviewed by: Editor - 11/07
Nicktoons - Attack of the Toybots
&copy THQ.bluetongue
Platform(s): PS2
To Order: PS2 http://www.amazon.com/ $29.99