---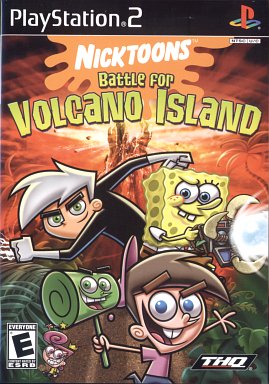 Nicktoons – Battle for Volcano Island
Ages: Everyone

Volcano Island is in danger of being overrun by an ancient evil known as Mawgu. Deep in his volcanic lair he feeds off the world's energy, growing in size and power. To conquer this evil, the Wise Old Hermit Crab has summoned the Chosen Ones. And who are the Chosen Ones? The renowned Nicktoon characters.
I find these multiple character games to be the best of the series, and they seem to come out once a year around the holiday season. The different characters give lots of play and the kids will recognize them from their various Nicktoons series. In this adventure we have:
Danny Phantom, able to do his Ecto-Blast and ghost punch;

SpongeBob, expert in Kah-rah-tay but also able to bubble blast;

his Bikini Bottom friend, Patrick Star, does belly bounces;

Timmy Turner, just an elementary school kid so don't expect much of him, has a hammer and a wishing star;

Samantha Manson, the only girl in the bunch but has a Peeler Suit to die for;

and last but not least is Sandy Cheeks, the athlete of the bunch, with karate and throwing stars in his arsenal.
As if that weren't enough, the NPCs are: Squidward Tentacles, Jimmy Neutron and Tucker Foley with his laptop database of information. As you progress towards the interior of the island, the Nicktoon friends join the original party of SpongeBob and Danny, each with his or her special skill and go onward to defeating Mawgu. You can change the lead characters with the "R" button and the rest of the team follows. Lots of fun. If you liked this game you would also like last year's The Cat in the Hat.
Reviewed by: Editor - 11/06
Nicktoons – Battle for Volcano Island
&copy THQ
Platform(s): GameCube
To Order: GC http://www.amazon.com/ $37.99