---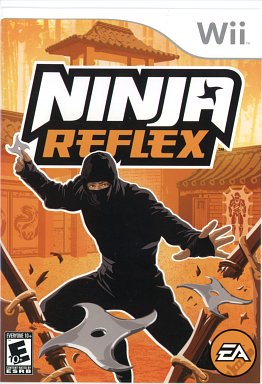 Ninja Reflex
Ages: Everyone 10+

First, approach the Wii, place your hands together, clear your mind, breath deeply - relax. You are now ready to choose a unique Ninja name for yourself from one of the 25,000 possible combinations. Begin training your physical and mental reflexes for your upward advancement from white to black belt. Sensei awaits.
Electronic Arts puts together a dojo in a tranquil setting, a wise cracking imperturbable Sensei and lessons/tests that look Zen simple but are difficult to master, and comes up with a game that gives you a sense of place and a place to have fun while actually improving your reflexes. It can be played (even sitting down) as solitary exercise or with other challengers.
Shunken - Throwing stars to destroy the enemy while avoiding the geishas.
Hashi - Catching flies with a chopstick - Interesting use of the remote.
Koi - catching fish by hand -- if you have fished by hand (illegal) you already know.
Nunchaku - swing the nunchuck and strike projectiles aimed at you.
Katana - Blocking attacks with a staff.
Hotaru - Picking fireflies out of the air.
And do not forget to click on the Meditation button and let Sensei guide you serenely through the basic steps of mediation.
It's a strangely captivating game that will engage players to play it till they achieve the black bet level. Is there a true black - belt?
The DS version is quite similar to the Wii version in the graphics, sound and tasks. Since you don't have a Wii controller, the action is mostly in tapping the screen with the stylus, sometimes in conjunction with the L or R buttons. When you successfully complete enough tasks at your current level, you are presented with a test challenge taken from this level - pass it and you are awarded the next color belt, and new challenges open up. Multiplayer mode is possible on both platforms.

Fun Factor: Amusing ways to increase your reflexes
Reviewed by: Editor - 04/08
Ninja Reflex
&copy Elecltronic Arts
Platform(s): Wii
To Order: WII http://www.amazon.com/ $39.99
To Order: DS http://www.amazon.com/ $29.99