---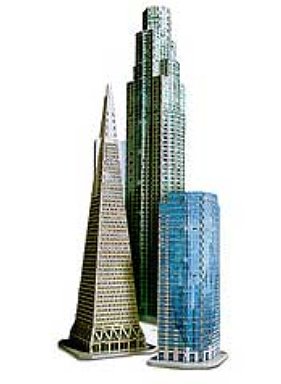 Puzz 3D - West Coast Landmarks Puzzle
Ages: Everyone

For the board game fans there are a couple of useful and informative on-line sources. One such is AreYouGame.com. This month they featured 3-D puzzles. The one that struck my fancy was Puzz 3D – West Coast Landmarks Puzzle # WRO4656, Hasbro $18.98
Another good online board game source is boardgames.about.com, which is edited by Erik Arneson who is a frequent contributor to Knucklebones magazine. His list of "Games to Play Before You Die" makes interesting reading even for computer gamers.
Knucklebones is an interesting magazine that covers the how, where and when about games – board, cards and the classics. Stories include the history of specific games, profiles on game developers, even how to care and repair your games. It is published bi-monthly, Knucklebones, PO Box 5000, Iola, WI 54945-9911. $27.95 a year
For those for whom games mean "board games", there are some interesting developments. Some games are using your TV, DVD player and remote to enhance a regular move around the board game. Two such are Marvel Heroes Breakout DVD Game from Brighter Minds Media and Raw Smack Down DVD by World Wrestling Entertainment. Nancy Drew – Curse of Blackmoor Manor DVD Game goes one step further, dispensing with board, computer, game consoles and handhelds. All you need to play the game is your TV, DVD and remote.
Reviewed by: Editor - 09/07
Puzz 3D -- West Coast Landmarks Puzzle
&copy Hasbro $18.98
Platform(s): No computer needed
Game Site: http://AreYouGame.com/