---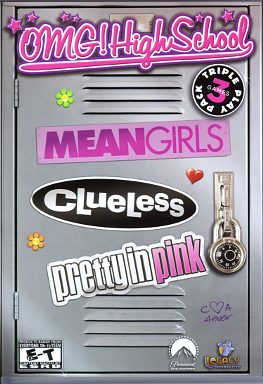 OMG! High School
Ages: Everyone +10 - Teen

There are three titles in this pack, all completely different - a match-3 puzzler, a dress-up, and a hidden objects game. Their plots are taken from three iconic girl focused movies.
Cluless As girl games go, it understandable that one should be about shopping and clothes and Cluless it is. The game tries to inculcate a sense of style in its players by critiques of the outfits they put together.
Players are presented with various items of clothing in a theme - beachware, grumge, cow-girl; plus a requirement of satisfying boyfriends who have general likes - short, pattern, bold colors. The finished product is graded and comments like, "Tight bottoms go well with loose tops", "Short sleeves and open toed shoes will make sure to keep away the fashion blues", are OK, but become tired when repeated too often. The background music is relentless and the song "Clueless" soon becomes tiring.
More attention should have been paid to the simple mechanics of the game. There is no pause, what stage you are in the game and what is next is confusing, but worst of all is the lack of clothing choices. Often there are not enough good choices to put together an outfit and get good grades. This is a game about clothing - why not have an outrageously wide choice?
MeanGirls
This one is the most complex of the games and "Mean" is the operative word here. Immediately, upon opening the main menu screen, you can engage in "Versus - a single match Showdown" - lots of skirmishes here. After a sign-on and picking your avatar out of the four available, you are off into a introductory role-playing game (RPG). The next step is to define your character by distributing the attributes - charisma, intelligence, endurance, luck and strength. The importance you give to these values broadly determines whether you are an Angel or a Devil.
The game play involves showdowns at almost every encounter with a character - this is where you play the match-3 puzzle. Tiles/icons on the screen represent skills - cruel, kind, prank and smart. Each match of three will give you a point in that skill. However, if you intend to win the match, the icons that count are the whip - which decreases stamina of the opponent, and the heart which wins the opponent over. As you win and level up - and also how you win - determines how your personality develops in terms of popularity, stamina, loyalty and skill. As you battle your opponent - two gauges, stamina and loyalty must be watched. Lose stamina and you lose the battle, fill up your opponent's loyalty gauge and you win them to your side.
In between all this, is the story and quests for you to do - and they pretty much follow the movie. Quests are shown by the exclamation mark - the question mark will direct you to the quest location on a map. The game is more complicated than one would expect because it is a real RPG with stats, character and consequences.
I did review the movie before I played the game - the game is meaner. In the tutorial you learn to fight by using friend Damien as a punching bag and you quickly get into the dilemma of trying to please the Queen Bee by using blackmail. Creepy! In playing RPGs you can discover something about yourself. I know that I started out as an "Angel" but found it was easier to win a showdown by using the whip than the heart.
The graphics are bare-bones 2D with one or two items gratuitously moving on the screen. Music may get annoying but it is easily ignored. But that's not what this game is about - it's about introducing girls into the RPG genre. Master this game - and you can go on to the actual Puzzle Quest games.
pretty in pink
The poor girl and rich boy story and who gets to take Andie to the prom is briefly covered in between the puzzles, which are all in some way related to the plot. The seek-and-find puzzles are the mainstay. They occur in a messy bedroom, unkempt kitchen, and trashed out school locker room - depressing scenes but I guess it's part of the plot. There is a reasonable help technique when you can't find the item but the scenes are blurry, what is supposed to be an eraser is a tan blob, chalk is listed as an item but found as chalks, a scale is referred to as a ruler, and some objects are just not recognizable. Picky, picky. I know, but there are standards.
There are other puzzles; matching two of a kind, discovering the differences in two almost identical scenes, a cooking sequence, even an actual puzzle, but the execution is sloppy, a button to skip one of the puzzles doesn't work and some buttons take three hits before they respond.
The idea of having three totally different games in one package is a good one. The iconic movies and their plots are selected to appeal to tween girls. But girls deserve better-made games.

Fun Factor: Three separate games are a good idea but would have preferred one great game
Female Factor: It's girls' world out there - the good, the bad and the confused.
Player Friendly: Games meed better mechanics
Reviewed by: Editor - 05/09
OMG! High School
&copy Legacy
Platform(s): WVISTA XP
To Order: Win http://www.amazon.com/ $19.99
Game Site: http://www.omghighschool.com/