---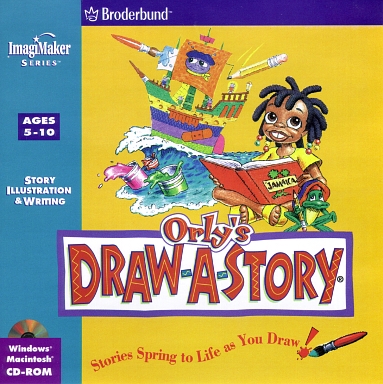 Orly's Draw-A-Story
Rating: Ages 5-10

I said this was unavailable in another review, Lou found it on the Web. It's actually better than I remember it. This game pulled out all the stops - the design team labored with love.
Paint colors - 32 - which allows plenty of shades for brush and pencil;
20 different sound effects;
20 different background scenes;
4 groups of pre-drawn figures - Orly & Lancelot, Creatures & Plants, People, Other Things;
48 special textures and
4 different stories plus a "Make Your Own".
Again the delightful part is being in the company of Orly and watching how well your drawings fit into and are animated through the story.

Here is the review we wrote almost 12 years ago!
---
IMPORTANT NOTE: The game itself was made for Windows3.1/Windows98/MacOS. Please read the note at the end of the review for information on how to update the program to run on newer Windows versions.
---
I like drawing. But sometimes when I am drawing I wish that I had a friend to be with me to keep me company and even notice how I was doing. Have you ever felt like that? Well, you have company when you draw in "Orly's Draw-A-Story".
There are stories that Orly would like to tell and your job is to do some of the drawings for the story - things like houses, ships, monsters and princesses. Along the way, Orly offers opinions and encouragement on your drawings, from "You're pretty fast" and "That's a nice color" to "It's so ugly I can hardly believe it".
From time to time the characters you are coloring also talk to you and offer suggestions. The drawing you do move and come alive in the story. It's a fun party with Jamaican steel drum music playing in the background while you're painting.
The painting tools make it easy to stay inside the lines and there are lots of weird textures like goop and eyeballs. Orly will give you instruction if you want her to, and she does it nice and easy, one step at a time. You can make up your own drawings or open a window with lots of ideas to pick from. You can also make up your own story book with pictures, backgrounds and funny sounds to go with your story. And it's nice having Orly along for company and encouragement. Even your brother might join you in this one.
Reviewed by Genevieve - Aug/1998
Orly's Draw-A-Story $29.95
Broderbund
MAC/Win Hybrid disk
---
GETTING ORLY TO RUN UNDER WINDOWS XP
The disk that you can buy will not run as-is on machines with newer versions of Windows, such as Windows XP, Windows Vista or Windows7!! However, the orginal creators of this product have made an update file which will fix the system incompatabilities and enable it to run on your newer system. You can get this file from them at http://www.tjande.com/orly.html. The link you want is labelled Download Windows 2000/Windows XP update (300 KB zip) near the bottom of the page. You have to install Orly first, then get the update file. Extract the updated program from the zip file and replace the ORLY32.EXE file with it. We have only tested this on a Windows XP system, and it worked just fine for us there.