---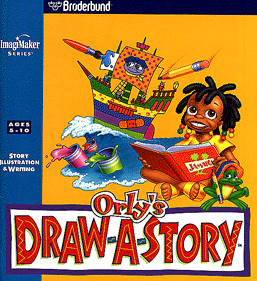 Orly's Draw-A-Story
Ages 5-10
I like drawing. But sometimes when I am drawing I wish that I had a friend to be with me to keep me company and even notice how I was doing. Have you ever felt like that? Well, you have company when you draw in "Orly's Draw-A-Story".
There are stories that Orly would like to tell and your job is to do some of the drawings for the story - things like houses, ships, monsters and princesses. Along the way, Orly offers opinions and encouragement on your drawings, from "You're pretty fast" and "That's a nice color" to "It's so ugly I can hardly believe it".
From time to time the characters you are coloring also talk to you and offer suggestions. The drawing you do move and come alive in the story. It's a fun party with Jamaican steel drum music playing in the background while you're painting.
The painting tools make it easy to stay inside the lines and there are lots of weird textures like goop and eyeballs. Orly will give you instruction if you want her to, and she does it nice and easy, one step at a time. You can make up your own drawings or open a window with lots of ideas to pick from. You can also make up your own story book with pictures, backgrounds and funny sounds to go with your story. And it's nice having Orly along for company and encouragement. Even your brother might join you in this one.
Reviewed by Genevieve - Aug/1998
Orly's Draw-A-Story $29.95
Broderbund
MAC/Win Hybrid disk