---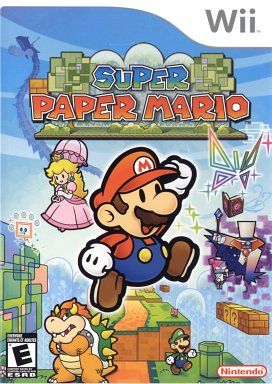 Super Paper Mario
Ages: Everyone

Ahh – Peach is in trouble again. She is about to be married to Bowser and is being hypnotized by Count Black to give the correct answer. It just happens that this union is foretold in the "Dark Prognosticus", written by Count Bleck, that when a union of beauty and the beast occurs – the world will disintegrate into total evilness. Fortunately, there is "Light Prognosticus" which predicts that the world will be saved by a hero who will arise who will retrieve the 7 pure hearts. Any takers?
Action starts with Mario waking up in Flipside where he will learn about the alternate dimension and get his first Pixl – Tippi, a source of information with its helpful revealing spotlight. The dialogue is lengthy, funny, informative, and right up there with current trends and fads.
As the game progresses you eventually pick up Peach and Bowser. Mario is the fastest and is the only one who has the ability to access the 3D world and jumps the highest. Princess Peach can float in the air and cross chasms too wide for the others. Bowser retains his fire-breathing skill. More assistance becomes available as you proceed. Pixls that can add important attributes to your team - a pick-up and throw pixl, a floating platform pixl, a bomber pixl, a shrinking pixl, a pixl that flips objects from one side to the other side of a wall.
The Wiimote is held sideways, button A gets you between dimensions – and is too easily hit when you actually want to press the control pad. While there are items to pick up or buy that can help you defeat enemies, jumping on heads still gets you a long way. Puzzles that utilize the 2D/3D dimensions are pretty easy but still inventive.
The clever and astounding quality of graphics - the route the elevator takes, the interweaving planes in the sky that transport Mario from one place to another - is a pleasant surprise, even when you focus is on playing the game. The manual is informative in indicating the uses of the Wiimote buttons and has clear callouts identifying items on the game screen and controls.
The shops and services on Flipside are interesting because of the graphic detail of the environment and items that are inside. The interiors in 3D land could use more graphic embellishments – I am waiting for an Aladdin-type wondrous cavern.

Fun Factor: The use of 2D and 3D makes for great game play.
Female Factor: The game rationale is that Peach needs saving
Player Friendly: Game has no easy level for kids.
Reviewed by: Editor - 12/07
Super Paper Mario
&copy Nintendo
Platform(s): Wii
To Order: WII http://www.amazon.com/ $49.99