---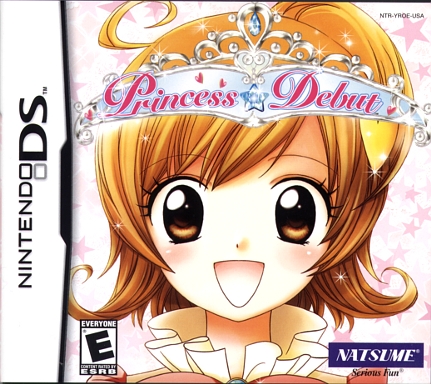 Princess Debut
Ages: Everyone

If you want to experience a game that is completely focused of what young girls want to play - check out this fantasy dancing game. It has princesses, charming princess, beautiful ball gowns, jewelry, castles, dancing, romance and a pink bedroom with a canopy bed. It skillfully touches all the girl buttons and, if Natsume is smart they will bring it out on the Wii.
In story mode, you are welcomed to the Flower kingdom as a princess and told that you will make your debut at a ball and that you will have to practice your dancing. To dance you have to follow a ball through a trail without the stylus touching the sides. Dancing is done in fancy ball gowns and when you select an accessory, you are clothed in the gown linked with that accessory. This transformation takes place in the upper screen in a blue sparkly whirling space - very fairy like. Your dance instructor is Tony the Rabbit, but you also dance with the princes and the graphic performance of couples dancing is the best I have seen anywhere - both in waltz and Latin numbers. The princes are an amusing lot with different personalities: gallant, insensitive, aggressive, shy and all can be dance partners. The better you dance together the closer the portraits of you and the prince move, increasing love points.
There are three main locations - each with different areas to visit - the main castle area, the forest area and the city area where chance meetings with princes take place. All actions are done using the touch screen. The game fulfills all the dreams of little girls.

Fun Factor: A little girl's dream game.
Female Factor: Girls rule.
Player Friendly: Excellent manual.
Reviewed by: Editor - 11/08
Princess Debut
&copy Natsume
Platform(s): GBDS
To Order: GBDS http://www.amazon.com/ $17.99