---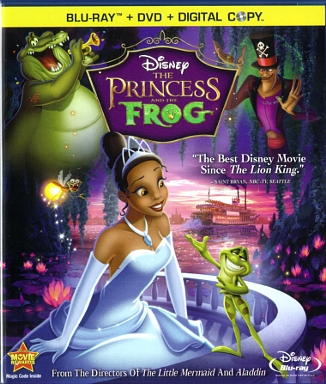 Princess and the Frog
Rating: G - General Audiences

This movie makes it as a classic American film with a heroine far removed from the usual pastel colored fantasies. Here we have a gutsy black girl working hard towards her dream of independence - which is to own her own restaurant. What a relief. Her foil in the movie is a pompous frivolous prince who has come to the city to marry the daughter of a wealthy sugar baron.
You know you're not in Kansas anymore when Tiana, looking much like a princess in her masquerade costume, kisses frog and turns into a frog herself. What a clever switch. As frogs they elude villains, meet up with Ray, a soulful firefly in love with a star. True love carries the day and the complexities are resolved. Imagine, both end up not retiring to a castle but owning and running a restaurant. Wow, refreshing.
Music defaults to jazz whenever it is appropriate - even from an alligator. The ambience of New Orleans is so delicious that it could be used for a tourist campaign. Graphics cleverly take on varied palettes - subtle tones for New Orleans, luscious blue and greens for the Bayou and reds and blacks for Dr. Facilier and his voodoo minions.
Some well know actors appear as voice actors - important because much of the acting involved singing: Anika Nona Ros as Tiana, Bruno Campos as Prince Naveen, Keith David as Dr. Facilier, John Goodman as Bid Daddy and Oprah Winfrey as Tiana's mother. Ne-Yo gets credit for the music.
Bonus treats contain an extensive showing of how real live actors were captured on film to aid the animators in drawing. Deleted scenes were surprisingly good. Disney Studios used its talented staff to create an inspiring American Fairytale, all hand-drawn!.
The Blu-ray package includes, besides the Blu-ray disk, a standard DVD and a digital copy for use in your computer and portable device.

Fun Factor: Excellent
Female Factor: Excellent
Reviewed by: Editor - Mar/10
Princess and the Frog
&copy Disney Studio
Platform(s): Blu-Ray
To Order: DVD http://www.amazon.com/ $26.99