---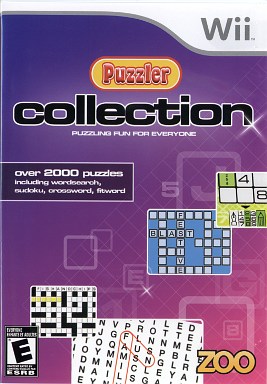 Puzzler Collection
Ages: Everyone

Why would anyone put a sedentary word puzzle collection on the Wii - a platform that was created for physical activity?
1. not everybody moves
2. the Wii is their only platform
3. they are laid up in bed and recuperating from a knee operation
4. itís a backlash to the Wii Health.
There are five games:
Crossword - A 13x13 square makes is an easy game and you can get hints..
Sudoku - Has a pencil mode where the numbers are put in very small. You can select the level of difficulty.
Word Search - Find the listed words in grid of letters.
Fitword - Place given words in a crossword-like frame - hints are available.
Spellouts Bonus - Solve an anagram of mixed-up words in a circle. The circle format makes it harder to do.
I would have put them on a handheld so I could take them along to boring places.

Fun Factor: Only for Wii people
Player Friendly: Easy enough
Reviewed by: Editor - 11/08
Puzzler Collection
&copy Zoo Games
Platform(s): Wii
To Order: WII http://www.amazon.com/ $19.99