---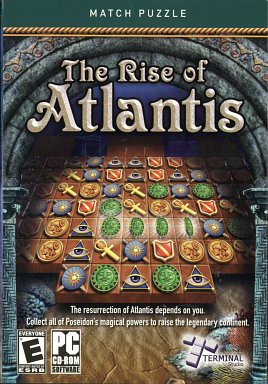 The Rise of Atlantis
Ages: Everyone

Developers are constantly trying to give a new twist to the "Match 3" games. This one does it by the accompanying story. You travel through the ancient lands of the Mediterranean – Phoenicia, Babylon, Egypt, Carthage, Rome, Greece and Troy. Every location is introduced with an appropriate animation and additional information comes on screen as the game progresses.
In each location you must collect pieces of a magic artifact by navigating these pieces to the bottom of the screen (while you are matching 3) so they become available to construct the artifact. There are special power ups – bombs and exploding sun power that help mix up the board. The way the game is constructed, there are 77 different level to play to conclusion. More than enough – even for diehards. The music and the game's tempo make it a relatively relaxing game.

Fun Factor: A geography lesson - learn while you play.
Reviewed by: Editor - 11/07
The Rise of Atlantis
&copy Terminal Studio/Elephant Entertainment
Platform(s): WVISTA XP W2K
To Purchase: Win BestBuy, GameStop, EBGames $19.99