---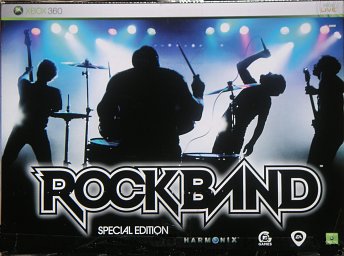 Rock Band Special Edition
Ages: Teen

This is absolutely the best gift you can give to a teenager – her friends and her family. But, maybe better check with the upstairs neighbors first. For those of you not familiar with musical games, Harmonix's Rock Band moves you up from Guitar Hero – as a single soloist to - a band. In simplest terms think of four different controllers plugged into one game - now add sound/music, then lights, then rock star graphics, scrolling notes and you have Rock Band. The Rock Band box set comes with the game, a wired guitar, a wired mic, a wired drum kit, and a USB hub so you can plug-and-play all of these on your Xbox 360. It comes with 45 licensed tracks plus 13 bonus songs, and additional content can be downloaded. For the Rock Band Special Edition version there is an additional guitar for a bass.
For anyone who has played or sung in some group, the synergetic quality of joining together to create something that is more than its parts is what players experience with Rock Band. It really is a group/team experience and it is reinforced by the scoring method. Since the performance is judged by the total score - if one band member falters, others will step in to "rescue" him/her - a little like real life. When friends aren't around - there is solo mode for the drum, lead guitar player and vocalist - good to get you up to speed but no way as much fun.
The instruments are not real instruments but neither are they toys. The Rock Band Fender feels good to the hand and comfortable to hold. The major fret buttons are on the neck with additional smaller ones down towards the body – good for kids or solos – plus a strummer, wammy bar, and a selection switch on the body for special effects like echo and flange, and wah-wah. Guitar Hero's guitar will work with Rock Band but not the other way around. The drum set is substantial, resilient drum pads, a wide sturdy base, stable drum stands, a kick pedal and real drum sticks and should stand up to plenty of pounding. In singing, your voice is the instrument. You can moderate how much of what you hear is your voice or how much the singer's voice. In scoring, there is some flexibility in the timing but pitch rules.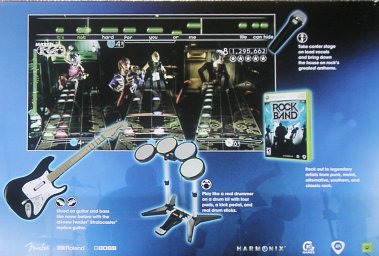 The difficulty level from easy, medium, hard, and expert makes it possible for novices to join in while it affords a real challenge to players to hone their skills. Screen animations are well done and convey the Rock Band environment, but those who are playing are too focused on the notes to pay attention to it.
In the "Band World Tour" you can create your own individual player, clothing, name of band and sets. Cleverly, your band name will show up in the poster and in lights. There are 40 venues and cities around the world to play and to hear cheers. You start, realistically, in small cafés and ramp up to large venues. The band earns stars, which indicate how famous it is, and fame which depends upon the fan base. Play poorly lose fans - even Prince wasn't invulnerable. Response from the crowd is truly awesome.
Hell - it's better than blowing the heads off aliens.

Fun Factor: A whole new experience
Female Factor: Enough face, boday and clothing choices to make real women.
Player Friendly: A true team experience
Reviewed by: Editor - 12/07
Rock Band is a nearly perfect music based rhythm game created by the maker of the Guitar Hero I and II games. It plays out like Guitar Hero meets Karaoke Revolution, adds drums, and makes sure the 58 included songs are fun for all 4 parts – guitar, bass, drums, and vocals. Downloadable songs every week make sure you'll play this game for a long time.
There are sure to be comparisons made between Rock Band and Guitar Hero III given how popular music games have become in the past few years.
In a nutshell, Guitar Hero III turns the difficulty up, picks songs that highlight the guitar solos, and by not changing the formula much remains a great single or 2-player game.
Rock Band chooses not to be as difficult, while remaining challenging on hard and expert difficulties, is very approachable on easy and medium with little experience required. Using the official Fender Stratocaster replica that Rock Band comes bundled with [in the Special Edition containing the game, mic, drums, and guitar], you gain much more of the actual feeling of playing a guitar. Extra frets at the base of the guitar's neck along with the ability to use effects such as wah-wah or chorus bring a more fulfilling experience for aspiring rock stars.
In addition to quick play, solo careers for guitar, drums and vocals, a gem waits for those rockers who play nice with friends. "Band World Tour" is a well thought out and immensely enjoyable means to experience the sensations of going on tour as a real band. Will you make it into the Rock and Roll Hall of Fame? Play the gig for charity and make more fans instead of making money? You call the shots with your band members. As if there wasn't enough to do already, there's support for online quickplay matches.
Rock Band is truly the best multiplayer game I've played. The energy of a singers making the song their own, the drummer keeping the band on pace while the guitarist and bassist shred some strings – this is a must-have for music lovers.

Fun Factor: Live out your rock star fantasies with up to 3 friends
Female Factor: Character creation includes woman
Player Friendly: Tutorials and Practice modes augment accessible starting difficulties
Reviewed by: Edward Martinez - 12/07
Rock Band Special Edition
&copy Harmonix/MTV Games
Platform(s): XBox360
To Order: XBox360 http://www.amazon.com/ with additional guitar. $254.99
To Order: XBox360 http://www.amazon.com/ $169.99