---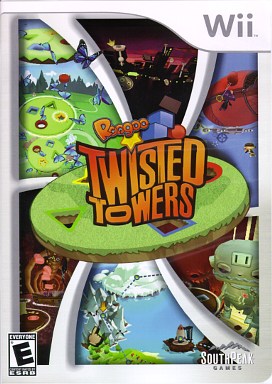 Roogoo Twisted Towers
Ages: Everyone

Who would think to develop a game from that toy for children under two, where they put assorted shapes into like shaped holes - Spider Monk Entertainment, that's who. And before you scoff at that idea, try playing it past the first few levels. Not unlike rubbing your tummy and patting your hair while doing sums.
Players rotate levels of platforms to capture the falling objects - clockwise or counter clockwise using Z on the nunchuk and B on the remote. Itís the left and right shoulder buttons on the DS. Complexity is first added by increasing the number of objects from 3 up to 5, then increasing the speed of the falling objects.
Other wickedly designed challenges take their cue from the level environment; clogged holes that have to be drilled by wiggling the remote; Meemoos blocking the holes must be shot with the A button; meanwhile butterflies are reversing the falling blocks; bats are stealing your shapes and there is an occasional flying object that obscures your view. Waving the remote will put a net into play, so in your spare moments you can catch various objects to increase your score. Did I forget to mention that there is a time limit?
There are 10 different environments with over 90 levels. I got through the sunny plains, the dark cave and the ice and snow land. I can hardly imagine what's in store for those who strive for completion - there are 8 unique boss battles.
The word "Save" does not enter the manuals nor is it anywhere in the game. The game is tiring on the wrists - players will want to know if their progress will be saved without closing the game and reentering it. Another confusing item is that it is not clear whether you are playing the game or the tutorial. Turns out that you are automatically playing the game unless you fail a level - then you are switched to the tutorial.
Two can play in Story mode and on the Split-screen Race. Four can play in Party Play by getting their unique icons and taking turns with the controls. Find a friend with the game on the DS and you can, at certain points, connect the Wii to the DS and unlock bonus content on both the Wii and the DS. There are hours of play here - even if you don't want to replay to up your score.

Fun Factor: Always a new challenge to keep it from getting tiresome.
Player Friendly: No mention of Saves - unexcusable
Reviewed by: Gen Katz, Editor - 07/09
Roogoo Twisted Towers
&copy SouthPeak/Spider Monk
Platform(s): Wii
To Order: WII http://www.amazon.com/ $29.99