---
---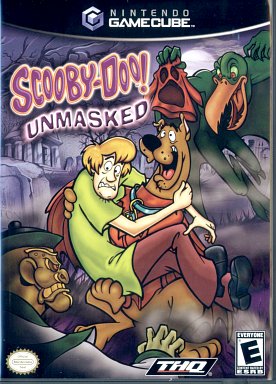 Scooby-Doo Unmasked
Ages: Everyone

Over the years that I have been reviewing Scooby-Doo titles, I have seen the inhabitants of the Mystery Van, Daphne, Velma, Fred and Scraggy take back seat to Scooby-Doo. I liked having the crew more active in solving the mystery. Ah well! It is now truly a dog story. Daphne performs one of the useful roles -- interpreting the clues that Scooby finds, and Shaggy cooks up Scooby food. The real function of the two characters is to keep you running back and forth to extend the game time.
The game is good. The level spaces are large and allow lots of running, jumping and exploring. Scooby's heavy thumping does sound like your upstairs neighbor's mastiff. The story has them searching for Fred's cousin Jeb, a worker at the Monsterous Fright and Magic company who has disappeared. The factory has been turned upside down, and the machines are running wild turning out monsters. Controls for the game are simple and also apply to Scooby's costumed characters -- Kung Fu, Flying Bat and Robin Hood with a quiver full of plungers. The character transformation is a good idea and should be explored at length in other Scooby games. Action goes from Chinatown, to a spooky theme park and finally to a museum before you unravel the mystery. All levels are well filled out and fun.
The voices are a good addition that is missed in the GBA. make sure you check out the cool graphic art included on all the disks. The Xbox versions differs, as far as I can tell, only in having a trailer for the Scooby-Doo What's New #6 DVD release.
Reviewed by: Editor - 10/05
Scooby-Doo Unmasked
&copy THQ
GameBoyAdvance PS2 GameCube XBOX
To Order: PS2 http://www.amazon.com/ $29.99
To Order: XBox http://www.amazon.com/ $29.99
To Order: GC http://www.amazon.com/ $29.99
To Order: GBDS http://www.amazon.com/ $29.99