---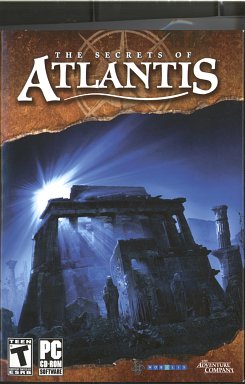 The Secret of Atlantis
Ages: Teen

Hooray! Adventure games are coming back – and we devotee have The Adventure Company to thank for keeping us supplied with our genre of choice. They have has come out full blast with three – no four new games -- Secrets of Atlantis, Secrets of the Ark, The Ugly Prince Duckling and Sam and Max.
The character in the Secret of Atlantis adventure is Howard Books, an engineer, who feels more like a free-lace adventurer cum Indiana Jones. As an engineer who has worked on the Hindenburg he manages to fix the sabotaged stalled motor in mid-air so that the zeppelin can go on to tether to the top of the Empire State Building. Once there, he has to solve an elevator problem to get to Mr. Foster, the wealthy character who turns over a medallion belonging to Howard's deceased father and encourages him to take on a quest for the lost city of Atlantis. And this is just the beginning of the adventure.
The game has many exotic locations with lush renderings in brilliant color —deep purples, blood reds and brilliant oranges saturated the locations. The rendering of the 1930's, showing the Empire state in its pristine condition is enough to make you want to linger. Lots of mini movements make the settings feel very alive - people passing, rain on the windows, cars passing. The adventure takes you to New York, Macao, India, Mesopotamia and in each one you are immersed the culture and characters of the land.
The puzzles are a mix of mechanical – nothing moves until you fix it, sliders, logic and memory puzzles where you have to combine clues for the solution, a card game, a Sudoku puzzle with glyphs instead of numbers which are harder to recognize. As with all adventure games, you have to mouse around to pick up every available object, regardless how incongruous it may be.
Hints are provided by the many characters in the story – and they are characters -- each with his or her individual personality, appearance and voice which makes the game feel very movie-like. The characters, up close are pretty plastic-looking but at a distance their appearance and motions seem very real. There are two main characters that partner Howard on his quest, Kate Sullivan the archeologist, and Captain Nathaniel Blackwood, both with a story to tell.
The game is extremely linear, which is frustrating at times when you think you are close to a solution and instead have to go back and forth a number of times until the next advancement kicks in. Sometimes when a goal seems to be within reach, you have first to make a potion, fetch a doll for a little girl. But Hey – That's what adventure games are all about.

Fun Factor: Remember with adventure games -- getting there is half the fun. Looks like a sequel is in the future.
Female Factor: The female character partners fully in the game.
Player Friendly: Remember to save before each puzzle. One is time-based -- totally unnecessary and frustrating.
Reviewed by: Editor - 08/07
The Secret of Atlantis
&copy The Adventure Company/Nobilis
Platform(s): WVISTA XP W2K
To Order: Win http://www.amazon.com/ $27.99