---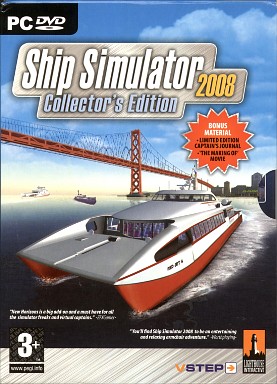 Ship Simulator 2008 - Collector's Edition
Ages: 3+

As the creators say in the printed "Captain's Journal" that accompanies the disk, "Afer all, why should only virtual aeroplane pilots have all the fun? ... Other simulation games focussed on everything from animal farms to railroads - but not ships".
This simulator contains 24 vessels, from powerboat to tugboat, oil tanker and even the Titanic! There is a cruise ship, a car ferry, a container ship. There are harbors, including Rotterdam, San Francisco, Southampton, New York. The sailing characteristics of the vessels have been faithfully modelled, including realistic ship motion. You can choose a mission, which can range from an ultra-beginner pickup of a yachtsman who swam too far from his ship to the ultra-pro sailing of the Titanic without hitting icebergs!
There is a Free Roaming mode - and of course I had to try out the Titanic. That one starts with the ship entering New York harbor (at night) - I did manage to get it to a dock (I'm not sure it was the right one!) -- very very slowly. Took over an hour, but I didn't hit anything nor run aground. Very satisfying. Maybe next time I will turn the ship around and head out into the Atlantic.
It took me a while to understand the first mission - I kept failing because I ran over people in the water. Once I understood where the goal was (there is a rotating green circle in the water and on the chart) things went much more smoothly.
The camera view angle is totally adjustable, and you can even "walk around on board any ship and examine everything in minute detail". The charting system seemed to me to be a reasonable representation of reality (I am not a mariner) and piloting a small ferry accross San Francisco Bay gave me views of the harbor that matched what I had seen on regular scheduled ferry rides.
I didn't try out the open ocean (where you can set up storms) - if the time scale is not compressed, it should take 3 or 4 days to get from Southampton to New York. This version has 30 missions, and can also be played in multiplayer mode with an internet connection. The Collector's Edition combines the Ship Simulator 2008 game and the official Ship Simulator 2008 AddOn: New Horizons which contains the Online and LAN muliplayer missions.
Be sure to visit the Forum section of the Ship Sim website http://www.shipsim.com/ShipSimForum to get the manuals (in the English forum, the links to the documentation are in the Child Boards line of text), as there are no manuals included on the simulator DVD.

Fun Factor: The realism is impressive
Player Friendly: Download the manuals, Luke!
Reviewed by: Lou - 11/08
Ship Simulator 2008 - Collector's Edition
&copy VSTEP/Lighthouse Interactive $29.99
Platform(s): WVISTA XP W2K
To Order: Win http://www.amazon.com/ Ship Simulator 2008 - $29.99
To Order: Win http://www.amazon.com/ Ship Simulator 2008: New Horizons Add-On - $24.99
Game Site: http://www.shipsim.com/