---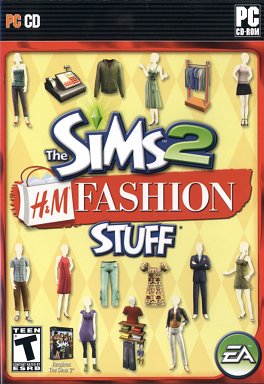 Sims2 H&M Fashion Stuff
Ages: Teen

The Sims motto should be "Never Enough". Just when you thought you had your Sims fed, housed and dressed, come the new Stuff Packs. Add-on packages of all sorts of new stuff: teen styles, upscale furnishings, glamorous and luxurious clothing, styles for festive occasions and here is one with a real touch of reality – clothing from H&M. To check it out myself, I found one of the stores, in Oakland California, went in and looked around. It was sort of between a Target and a GAP. Inviting, reasonable and trendy.
This package contains three main activities:
Select stylish ensembles from H&M's cool and retro selections. These clothing selections will be available in all your "Sims 2" games.
Design your own retail store or intimate boutique. Lots of retail store items are included to start you designing.
Showcase the fashions by designing a runway. Runway model walk courtesy of the Sims.
You need a previously installed version of one of the following The Sims 2, Sims Holiday Edition, The Sims 2 Deluxe to play this game. Read the installation instructions carefully and do not install this product in the same location where you have The Sims 2 games.

Fun Factor: Is there life after Sims?
Player Friendly: The convoluted installation is totally Byzantine.
Reviewed by: Editor - 12/07
Sims2 H&M Fashion Stuff
&copy Electronic Arts
Platform(s): WVISTA XP W2K W98SE Me
To Order: Win http://www.amazon.com/ $19.99