---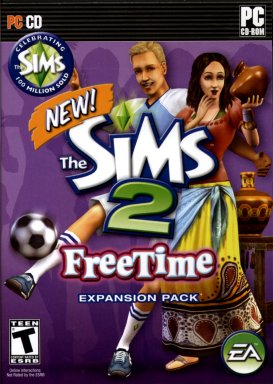 The Sims 2 - FreeTime
Ages: Teen

There have been more Expansion Packs and Stuff Packs to Sims 2 than for any other game - each one different, each one adding to the lives of the Sims, and each one eagerly awaited by the hard core Sims player. We all have our favorite ones, and they reveal much about us because, in some ways - the Sims'R Us.
All expansion packs require the Sims 2, The Sims 2 Deluxe, or The Sims 2 Holiday Edition to play. All these expansion packs build on the 2004 Sims 2 game. Remember, it was the one that allowed the Sims to age - it feels so long ago. My Sims have graduated from college, gotten married, had children.
This expansion pack brings to your Sims so much fun, so many meaningful activities and exciting new career tracks that the sheer excitement will boost their life force (Aspirations). The choices are endless - take up ballet, the violin, the synthesizer, go into sports, fitness activities, try pottery, sewing, bird watching, video games, restoring cars, book clubs - to name a few. It is interesting that EA has designed into the game - the Zone. It happens when your Sim becomes so involved with their activity they forget about everything else, their needs decay at a slower rate, allowing them to continue interrupted. You can recognize the state when a light glow surrounds your Sim. Having personally had that experience, I am glad that my Sims can too.
The new professions can actually grow from intense interest - finally something I am interested in doing: Stand-up-comic, Ballerina, Architect (that's me), Detective, and Oceanographer. When I think that there could not possibly be something to warrant a new pack - EA does it again.

Fun Factor: My Sims are having more fun than I am.
Female Factor: Player determined.
Player Friendly: The interface could be a little simpler. But I guess, if it's not broken, don't fix it.
Reviewed by: Editor - 04/08
The Sims 2 - FreeTime
&copy Electronic Arts
Platform(s): XP W2K W98SE Me
To Order: Win http://www.amazon.com/ $27.99