---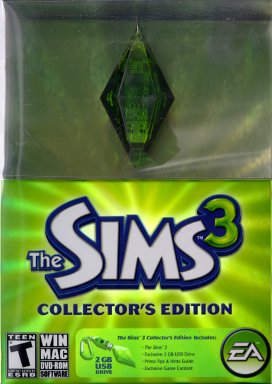 Sims 3
Ages: Teen

I'm sitting here - before opening Sims 3 - reminiscing. My library of Sims predates Sims 2. How to leave my families, friends, custom ranch, even a pad in New York. It's going to be hard. I relived college, made subway music, trained pets, got zoned-in. I bought the GBA-SP just for the game and used the Holiday Edition for Christmas cards. But Electronic Arts has done well by me for almost ten years - so here goes.
In Sims 3, the new Create a Sim is very impressive - not only in the available choices, but in how it's presented. Body types are on sliders - nice to see that there are no Twiggy bodies here. Facial customization makes you feel like a plastic surgeon - a tuck here, a narrowing there. Many hair options are available - frosted, dark roots, tone on tone, and you can have different hair styles for different clothes - a nice touch. Clothes and furnishings have more colors - RGB and hex numbers, and now patterns. And last but not least - voice pitch. It's not Lauren Bacall, but you don't have to have that squeaky voice.
Players start out with three different outfits for each clothing category - everyday, formal, sleepwear, athletic wear, and swimwear. Changes are done on the spot - no need to go home. An inspirational touch is the ability to change hair style and makeup at any mirror. Furnishing and building feel the most familiar, but now there is a mini grid and a diagonal placement option. Buying is still central and organized to make selections easier.
Developing personality means traits - you can have up to five - choose from mental, physical, social and lifestyle. This is important because it is these traits that shape your Lifetime Wish, which colors everything your Sim does. Instead of Needs, which sounded so urgent - there are now Moodlets - red = bad, green = good. Job performance can be regulated - work hard, goof off, take out a contract on your boss - just kidding. Free will can be modified and the UI is more intuitive. Your Sim will now go and sit on the toilet without your intervention.
Movement has been made incredibly easier - point and click. Locate a destination on the map and send your Sim there. Clicking on a Sim's icon will locate the Sim, clicking once more will make the camera follow it. Your control center for all of this is the Main User interface puck, which sits on the lower left hand of the screen and looks like a control panel for the Enterprise. There is no organizational hierarchy here - video capture, an advanced option is next to the Sim locator, a basic tool.
For a new player it is intimidating. The manual that comes with the game cannot do the job. It really needs a guide such as the one put out by Prima. Instructions on game functions cover three different options: using the mouse; on screen icons and the keyboard. Usage will become natural once the player has made a choice and worked with it. But it is Sims - a world to explore and lives to live and we have accepted the learning curve that goes with living in that world.
Customizing is such fun that you can spend a day customizing your Sim. For beginners, I would suggest selecting a ready-made house and give your Sim a high level of autonomy. Observe and let your Sim teach you. Later you can develop your own special Sim, face figure, personality with lifetime goals and eventually join an online community, to share and shop.
Sims 3 Comes on a hybrid disk and will play on PC and Mac.
Sims 3 The Collector's edition has a 2GB USB stick in a green transparent Plumbob

Fun Factor: Worth the ramp up time
Female Factor: Up to the player
Player Friendly: Easier than Sims 2 First patch already downloaded.
Reviewed by: Editor - 06/09
Sims 3
&copy Electronic Arts
Platform(s): WVISTA XP OSX
To Order: Win http://www.amazon.com/ $44.99
To Order: Collector's Edition http://www.amazon.com/ $66.99
To Order: Mac http://www.amazon.com/ $44.99