---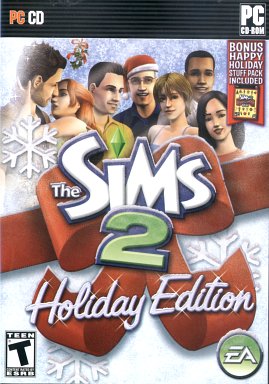 The Sims 2 Holiday Edition
Ages: Everyone

The Holidays are a time for bargains, and this is never more true that when buying The Sim 2 Holiday Edition. This is such an incredible buy I have to give you the details.
The Sims 2 - $35.98 – The basic game
The Sims Holiday Stuff Pack - $16.49 – Extra items with a holiday theme
The Sims 2 Holiday Edition - $14.98 – Both the above
Incredible. It's a great buy for anyone who doesn't already have the Sims. Are there any out there? I wonder if Amazon or Electronic Arts knows about this.
Reviewed by: Editor - 11/06
The Sims 2 Holiday Edition
&copy Electronic Arts
Platform(s): W98SE Me XP 2000
To Order: Win http://www.amazon.com/ $14.98