---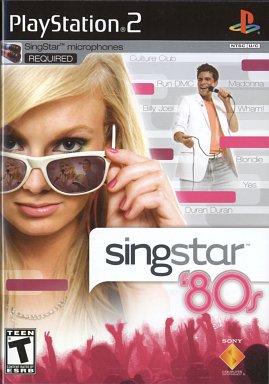 SingStar '80s Bundle
Ages: Teen

There are some games that shouldn't be reviewed sitting down. For games like SingStar you have to go where the kids congregate - after school spots - perhaps even libraries. There you will be involved with the excitement that performance games generate. Seeing kids reaching to get their hands on a guitar or mics is to realize that that is where the action is.
SingStar '80s Bundle is the fourth in the series of Sony's karaoke games. It includes two microphones and a USB converter. You can also buy the "Stand Alone" version which includes just the game. As you sing the meter ion screen will indicate how close you are in pitch and timing to the original and throw out comments like "cool" or "awful". This is not really a play alone game - it is geared for a crowd willing to party - or at least make fools of themselves. Using the dual mics you can pit teams against each other in the multi-round battles where both players sing at the same time. For a massive bash you can play "Pass the Mic" involving eight players.
The '80 is the era where the sing-able songs came from and this selection has a nice mix of male and female performers. The list is enough to make you start humming.
Alice Cooper – Poison
Belinda Carlisle – Heaven Is A Place On Earth
Billy Joel – Uptown Girl
Blondie – Atomic
Culture Club – Karma Chameleon
Dexy's Midnight Runners – Come On Eileen
Dolly Parton – Nine To Five
Duran Duran – Rio
Erasure – A Little Respect
Europe – The Final Countdown
Fairground Attraction – Perfect
Foreigner – I Want To Know What Love Is
Frankie Goes To Hollywood – The Power Of Love
Kate Bush – Running Up That Hill
Katrina And The Waves – Walking On Sunshine

Madness – Our House
Madonna – Material Girl
Marillion – Kayleigh
Nena – 99 Red Balloons
Run DMC – It's Tricky
Simple Minds – Don't You (Forget About Me)
Soft Cell – Tainted Love
Starship – We Built This City
Survivor – Eye Of The Tiger
Tears For Fears – Everybody Wants To Rule The World
The Cure – Just Like Heaven
The Pretenders – Brass In Pocket
Tina Turner – Simply The Best
Vanilla Ice – Ice Ice Baby
Wham! – Wake Me Up Before You Go Go
If you want pop or rap you might want to get your hands on a Singstar Pop stand alone disk. The disk-swap feature lets you play other Singstar disks. When you think you are good enough - you can make your own recording, tweak it up and maybe send it to American Idol.

Fun Factor: It's a phenomenon. (def: known through the senses rather than though thought)
Female Factor: Good mix of guys and girls
Player Friendly: An Eye Toy bundle would make it even better - and friendlier.
Reviewed by: Editor - 04/08
SingStar '80s Bundle
&copy Sony Computer Entertrainment
Platform(s): PS2
To Order: PS2 http://www.amazon.com/ $49.99