---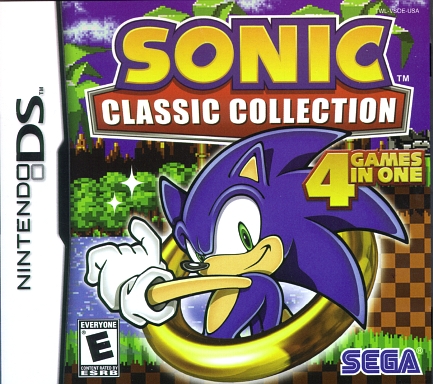 Sonic: Classic Collection
Rating: E - Everyone

Sonic came out in 1991, so players who will appreciate this "Classic" game are more likely to be the children of those who originally played it. It holds up well - in fact more than well. The speeding blue ball of energy really enlivens this platformer. As Sonic blasts along, the players job is to pick up the rings, avoid physical hazards and robots and keep Dr. Robotnick, aka Eggman, from getting the chaos emeralds and creating or recreating the Death Egg.
The set includes Sonic The Hedgehog, Sonic The Hedgehog 2, Sonic The Hedgehog 3, Sonic & Knuckles and you can play them in any order. In #2 Sonic plays as Knuckles, in #3 he has Tails for a companion and in the last, both Sonic and Knuckles are playable. Each game is divided into acts with a ten minute time limit. They are all different, with inventive hazards, and marvelously detailed backgrounds including cities, jungles, land, sea, air, even ancient Rome. Every game opens with attract screens giving the player a preview of the game. The game can be played in English French and Spanish.
A real treat.

Fun Factor: Four great games
Female Factor: None yet
Player Friendly: Good manual. You can save the game from any location and condition.
Reviewed by: Editor - Mar/10
Sonic: Classic Collection
&copy Sega
Platform(s): DS
To Order: DS http://www.amazon.com/ $29.95