---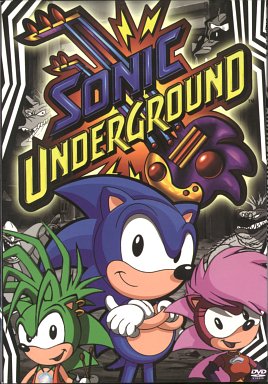 Sonic Underground
Ages: Everybody

What a great four disk set for Sonic fans. This third set of 40 animated episodes, based upon the popular game hero, fills in lots about the "history" of the characters, by some very able writers and animators.
Besides the well known Sonic, the characters of his siblings Sonia and Manic and their mother Queen Aleena are woven into amusing, musical and slightly moral messages – the importance of family, showing courage without special powers. Each episode has its own original musical sequence with lyrics that fit into the story line. The Sonic family battles the evil Dr. Robotnik and shape-changing Dingo using their musical combo – the original Rock Band.
The story starts with the birth of the Sonics, their abandonment by their mother in order to fulfill a prophecy, and the Sonic's search for their mother while eluding the bad guys. Humorous adult-pleasing sequences involving, Bella, the vampire's henchman, Sleet's Peter Lorie's accent and Sean Connery as Great Grandfather Altair makes for all-round family entertainment. The last disk contains the soundtrack from the show. Buy it – parse it out to one show per week for you or the kids – almost a whole year of really nice entertainment.

Fun Factor: Fun, even if you don't know who Sonic is.
Female Factor: Sonia, an equal team member.
Reviewed by: Editor - 12/07
Sonic Underground
&copy Shout Factory
Platform(s): DVD
To Order: DVD http://www.amazon.com/ $26.99