---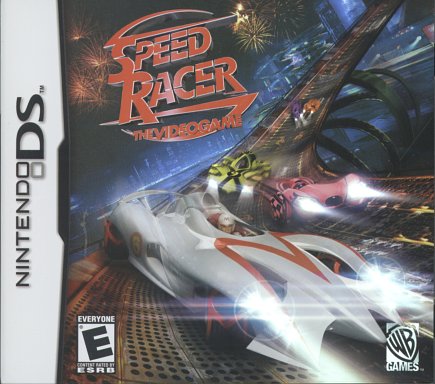 Speed Racer - the Video game - DS
Ages: Everyone

Clocking the T-180 at 400 mph, the DS literally smokes in your hand. This is like racing in your wildest dreams. They have taken out all the hard and nasty parts and put in just the fun parts. This is arcade racing with good steering control. If you are still having a hard time keeping on the tracks, barriers will keep you from flying off the tracks - where there is no barrier your car will flip over and return to the track. Leave the driving to the Warner Brothers and just focus on the Car-Fu tricks.
Play as Trixie, Speed Racer or Racer-X. Driving style can be customized. There area three difficulty settings. The point scoring system has been updated to the fan rating system but still depends upon your skill and driving style. I found it more satisfying to get a raves out of the crowd than getting high rating numbers.
The Car-Fu tricks and maneuvers are mapped to the buttons so that jumps, spins and flips are easy to perform.
Sliding around a curve - L
Drifting - press and release L then to directional pad
Spin and Recover - X
Accelerate - A
Jump - B
Front Flip - B + Up
Back Flip - B + Down
Barrel Roll - B + Left or Right
Boosting - R (when filled)
All these can be used as offensive maneuvers against your opponents. Store up your boost meter and enter the Zone - a multicolored psychedelic experience that blasts you forward.
Each tournament has three races and there are no saves until the end of the tournament - but things are moving so fast - you probably won't want to. There are a total of 19 plus tracks and eventually 16 different drivers. Beginning selection offers four drivers including Speed Racer, who looks like Elvis and a track selection that includes Desert Mesa, Thunderhead, Zenubia Cascade, Fuji Helexicon, Logendamn, Kirkiala Island, Cosmopolis.
While it's a blast doing all the Car Fu - paying attention to racing techniques, avoiding the side walls and making good use of the Zone will win more races - but even I am a sucker for the cheers when I pull a spin and double barrel role. Playing both this and the Wii - I found the DS more forgiving of bad driving and some stunts like flying through the air across ledges - are a freebee. How can you resist a rocket in your pocket?

Fun Factor: Great racing experience.
Female Factor: Female racers.
Player Friendly: Maneuvers mapped to buttons makes it easy to play.
Reviewed by: Editor - 05/08
Speed Racer - the Video game
&copy Warner Brothers
Platform(s): GBDS
To Order: GBDS http://www.amazon.com/ $29.99