---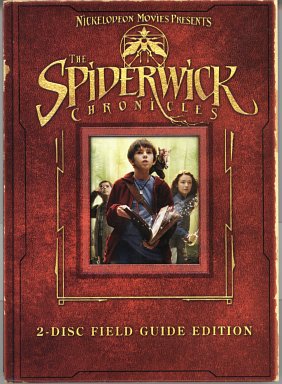 Spiderwick Chronicles - Special Collectors Edition (two-disc)
Ages: PG - children in peril

The Grace family moves into a secluded, ancient mansion, having left New York because of the family's break-up. The stress in the family is apparent - particularly in Jared - the most sullen and angry of the three kids. They arrive at night - does anyone arrive at a spooky mansion in the daytime? Within three minutes, Jared senses someone or something observing him. In eight minutes we have noises in the wall, and a dumbwaiter is uncovered which leads to a secret room where Jared finds Arthur Spiderwick's Field Guide to the Fantastical World. Opening it, in spite of admonitions not to - he causes the release of the most powerful of all ogres - Mulgrath - who wants the book and the power it contains.
From the beginning the children are in deadly danger, being pursued by the dreadful minions of Mulgrath. The attacks are relentless, which is probably why the game is rated PG - for scary creature action and violence, and peril. Although the lead-in scenes show tables with a collection of bottles of liquids, books, specimens and drawings of bugs, mammals, skeletons, butterflies and snakes, looking much like a biologists lab, it quickly degenerates into a monster mash.
If you can get past the constant attacks, there are some nice bits of business. The daughter, Mallory (Sarah Bolger) is the one handling the sword, there are some benign characters and fairies; the potion to ward off goblins is tomato sauce and Morton's salt; a seeing stone that lets you see the enchanted creatures; and there is a nice ride on the back of a griffin through clouds and icy mountains to the land of the sprits. Industrial Light and Magic did many of the special effects, but for me - they should have spent their energy on more fairies, fewer goblins.
The acting is topnotch, particularly that of Freddie Highmore who plays both twins - each with a different personality. English, English SDH, French, Spanish, and Portuguese are subtitles options. There are special features on both the first and second disk: Arthur Spiderwick's Field Guide, Making of Spiderwick, The Magic of Spiderwick and the usual-deleted scenes. Of special interest is the Arthur Spiderwick's Field Guide with marvelous drawings and explanations of brownies, sprites, boggarts, goblins - a whole litany of fanciful creatures. A special "In Movie Field Guide" lets you access the book during the movie. The 2-disk set comes bound with a seal promising a secret world if unsealed. Who could resist? The story for the movie was originally a series of books by Holly Black and Tony Di Terlizzi. I'll bet there weren't so many monsters.

Fun Factor: It carries a PG rating for scary creature action and violence, peril and some thematic elements.
Female Factor: Mallory is the big sister, but the action is all Jared's
Player Friendly: Includes Arthur Spiderwick's Field Guide - a nice extra.
Reviewed by: Editor - 06/08
Spiderwick Chronicles - Special Collectors Edition (two-disc)
&copy Paramount Home Entertainment
Platform(s): Movie