---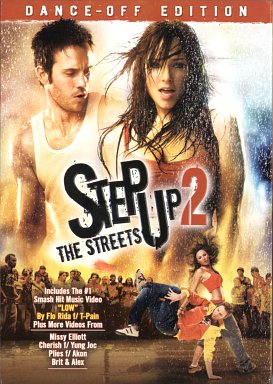 Step Up 2 the Streets
Ages: General Audience

Wow - don't try this at home - dancing on the ceiling, spinning on your head, wild jumps, mechanical moves - put them all together an you get an explosive mix of hip hop dance routines that continue throughout the movie and on through the credits. The bonus features provide even more dancing and include outtakes, deleted scenes from the movie, more music videos and an inside look into the making of the movie.
The interesting story has a group of dance students enrolled at MSA, a performing arts school, pushing against the formal ballet genre and expressing themselves in modern hip-hop. There is a confrontation with the school administration, and a set-to with the rival dance groups - the Street. A little romance between the dancers with couples pairing off in the end is nicely done, mainly because the actors are so appealing.
The cast of dancers include Briana Evigan (Andie), Adam G. Sevani (Moose), Telisha Shaw (Felicia), Black Thomas (Tuck), Rainen Paguio (Kid Rainen), Danielle Polanco (Missy), and the choreographers Jamal Sims and Hi-Hat and the ACDC dance crew. The cast was joined by dancers from So You Think You Can Dance - Mia Michaels, Shanica Knowles, Elijah Kelly, Kel Mitchell, Jeff Lam, Josie Davis, Arlen Escarpeta, and K.O., Montana Tucker. This is a new generation of wonderfully talented dancers.

Fun Factor: Great dancing, engaging story, appealing cast
Female Factor: The girls are great
Reviewed by: Editor - 07/08
Step Up 2 the Streets
&copy Touchtone Home Entertainment
Platform(s): DVD
To Order: DVD http://www.amazon.com/ $16.99