---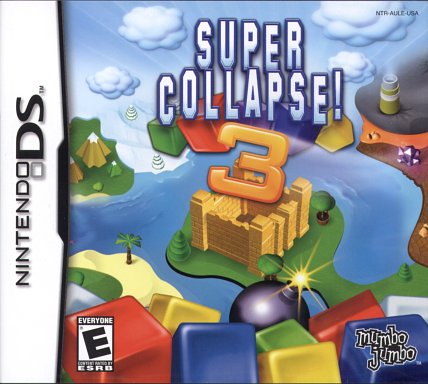 Super Collapse 3
Ages: Everyone

My last review of this game, on the PSP, ended with, "Having played collapse-three on many machines – the one that is supremely suited to the game is the Nintendo DS where you just touch the blocks to select and remove them." Yes, Yes. This game on the DS is simply perfect. The trick is to play Quest to unlock the other modes before you go to Quick Play, and finally I got to play the other modes. The games are not simply match three – all matching blocks that touch are removed which makes the game satisfyingly faster. The modes are the same as in the PSP and they are novel and addicting – In Puzzle, clearing all blocks means you have to plan ahead, Strategy makes you optimize your clicks, Relapse is a new geography for the game · Relapse – blocks come from both top and bottom, · Strategy – a new row appears each time you click, · Puzzle – where you have to clear the blocks in the right order, · Slider – rows of blocks shift back and forth, · Countdown – how many points you can score in two minutes. Again, a game needs to be optimized for the equipment it is played on. Conversely, a game should not be developed for a machine that cannot handle the speed, precision and action required by the game. The next-gen machines all have different abilities and too often there is a mismatch between game and machine.

Fun Factor: Yes - but only on the DS.
Player Friendly: Even has a good and colorful manual.
Reviewed by: Editor - 11/07
Super Collapse 3
&copy Mumbo Jumbo
Platform(s): GBDS
To Order: GBDS http://www.amazon.com/ $29.99