---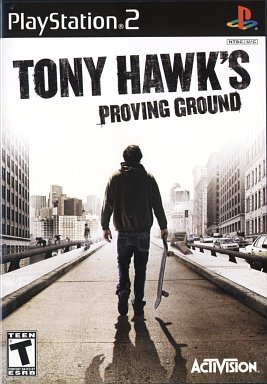 Tony Hawk's Proving Ground Skateboard
Ages: Teen

There are games that can make you feel like a kid outside of a bakery. Skateboarding, which I liken to ballet dancing en pointe, takes a similar dedication, training and body learning. As the dancers say when they get it – "it's in the body". It's the same with the career skateboarders and no amount of looking at the game will make you a skateboarder.
That said, there seem to be the same options of basic controls and advanced controls which eventually have you controlling both hands and feet while in the air. This version has three different goals to experience with – Career, Hardcore and Rigger. Rigger is the first and you will have to set up elements so you can launch over three abandoned cars. For the literally minded "hit the car" doesn't actually mean that – Oops. While the different goals are interesting, they have you selecting and jumping from one spot to another. In some way, it seems to reflect the aging of the game. Do you really want to be a rigger?
The customization options are in the extreme and would make any Barbie game pale by comparison. Those not interested in appearance cred can stop now. To list just a few of the options available: Right hand and left hand accessory – gold watch, nixon cannon; Right and left hand tattoos – Skull, dragon flower, some of these are so gorgeous that your skater must go shirtless; Eye color – the usual plus weird contacts; Face color – we now get creative with three variants - color, vibrancy and lightness, yes you can make the Hulk; Glasses – why hide the weird contacts?; Hair – many choices, bald, afro dreds and color choices, the same three varient sliders; Facial hair – many; soul patch, goatee, beard plus colors; Torso – front and back, 2-color plus logo or bare; Pants – jeans or shorts and will probably depend on how fancy your socks will be; Socks – long argyle, plaid, none; Shoes; high tops, and something called "dvs marathons"; Belt – es, stitch, leather; Buckle – es, silver. And we haven't even started on the skateboard.
I list these only to show that it is not only girls who like dress up games.

Female Factor: Notice, gender is not an option.
Reviewed by: Editor - 11/07
Tony Hawk's Proving Ground Skateboard
&copy Activision
Platform(s): PS2
To Order: PS2 http://www.amazon.com/ $39.99