---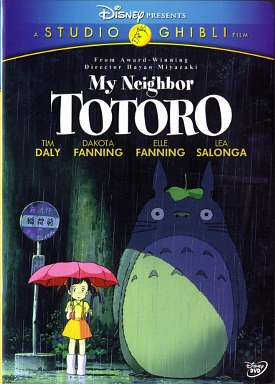 My Neighbor Totoro
Rating: G - General Audiences

Miyazaki - weaver of dreams for girls of all ages. His sensitive and tender explorations of his female heroines belies the fact that he grew up in a family with four male sibs and has two sons. From Ponyo for five year olds; to My Neighbor Totoro with two sisters exploring the secrets of a new house and the fantastic land and hidden dwellers of the forest; to Castle in the Sky a fantasy with battles and teen love. It's girls, girls all the way, while still capturing the hearts of boys and grownups.
The Story: Two sisters, 10 and 4 years old, with their dad, are moving into an old house in the countryside. Their mother is in the hospital with TB but is soon to return home. While her older sister is at school, young Mei's exploration of the woods outside of the house has her meeting face to face with a large forest spirit - a cross between a large owl and bear which she calls Totoro. Throughout the movie Totoro's appearance makes the situation amusing and gives full vent to the artist's imagination - the unforgettable bit where the girls give the immense Totoro their father's umbrella to protect it from the rain. The cat-bus characteris another example of the studio's light humorous creativity.
Bonus Material: For Americans, some of the images and myths are unfamiliar. In the bonus interviews Miyazaki gives some explanations. The little black things in the house are soot sprites - benevolent - and will leave the house once they sense happiness; Totoro is a forest spirit - also benevolent. For Miyazaki, the intent in making the picture was to capture the beauty of Japan's countryside - the rice fields, dark forests, beautiful sunsets shadowing the hils. One excellent feature of the bonus portion is the storyboard presentation of the movie. Not a few scenes - the entire movie.

Fun Factor: Fun and pleasure at the creativity
Female Factor: In a Miyazaki film, girls are the heroes.
Reviewed by: Editor - Mar/10
My Neighbor Totoro
&copy Studio Ghibli/Walt Disney Studios
Platform(s): DVD
To Order: DVD http://www.amazon.com/ $19.99