---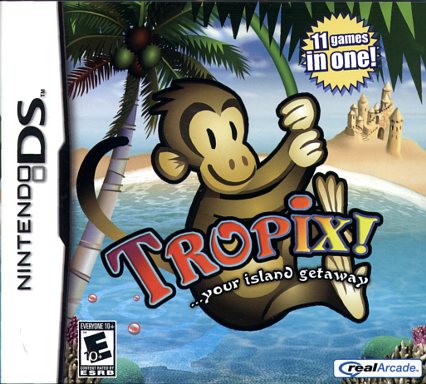 Tropix: Your Island Getaway
Ages: Everyone

The box cover is deceptive. It's truly more than monkeys swinging through trees - but it has that too. It's a bountiful package of mini-games that includes card games, word games, match 3 games, Sudoku-type, physical games and yes, swinging monkeys -- and all with an island-themed background.
The games are very clever - bowling for instance, uses a narrow dock for the alley, which swings and sways as you progress through the game. A fun spelling game with words inside of bubbles and a shooting game to keep bubbles from reaching a castle that uses ricocheting bullets to target bubbles in increasingly difficult formations such as spirals. Use of the touch screen and stylus works very well here.
Real Arcade has taken some standard puzzle concepts and added a sophistication to them. They have also created a range of easy to hard levels that will really work for kids - even a winnable Solitaire game. Great gift anytime for any age..

Fun Factor: Many clever games
Player Friendly: Includes an easy level for kids
Reviewed by: Editor - 01/09
Tropix: Your Island Getaway
&copy Capcom/Real Arcade
Platform(s): GBDSDS
To Order: DS http://www.amazon.com/ $29.99