---
---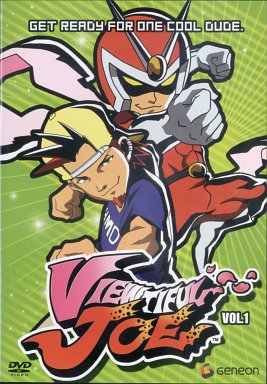 Viewtiful Joe Vol. 1
Ages: All ages

This is the story of Joe before he became Viewtiful Joe. He not an oblivious candidate for heroship except for his blind admiration of Capt. Blue -- a true, tho middle-aged hero. Watching a Capt Blue movie with his main squeeze Silvia, of the big glasses, the villains come out of the movie, bash Capt. Blue and take Sylvia.
The vanquished Capt. Blue transfers his powers to Joe by giving him his V-watch and telling him about the transformational phrase "Henshin" (a term referring to the move genre featuring super heroes) that will change him into a a super hero. Big Blue stays around for a while to help Joe along with suggestions and tips.
In his effort to save Sylvia, Joe encounters an awesome set of villains: the Blankies , robot creatures dressed in prison stripes, Charles III a fey flying wisecracker, Sprockets, a cool prickly woman that reminds me of Condolezza Rice and Alaster -- the devil born in hell who looks good enough to be the hero. Sylvia, unfortunately in this episode, does nothing by cry out, "Save me Joe". Hope they give her more spunk next time. So the cast is in place. Heshin-a-go-go Baby. See you around in Volume 2.
Reviewed by: Editor - 02/06
Viewtiful Joe Vol. 1
&copy Genon.Capcom
DVD
To Order: DVD http://www.amazon.com/ $17.99